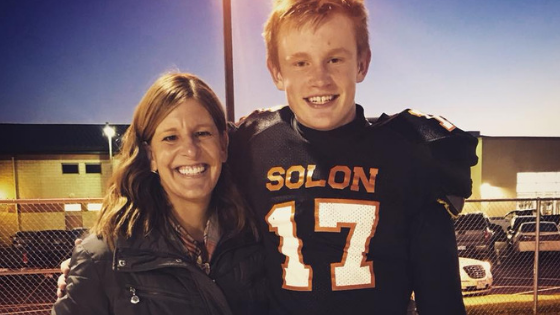 There has been much talk this week about men…..everyone has their own ideas about how men should act, including a certain razor brand. As the mom of a teenage boy, I am always thinking about the man I want my son to grow to be.  It's a crazy world and boys are getting such mixed messages about what it means to be a man and really about how men should treat each other, as well as how to treat women.  What does scripture tell us about being a man?
Be on the alert, stand firm in the faith, act like men, be strong.  Let all that you do be done in love.
1 Cor. 16:13-14
The senior pastor from Watermark Community Church breaks this passage down with 5 rules for guys: step up, speak out, stand strong, stay humble and serve the King. His blog post looks at the 5 rules and includes 44 scripture references so check it out if you get a chance.  However, let's take a quick look at what that can mean for your teenage son, according to me. 😊
Step Up.
I want my son to be a leader.  I want him to reach for his dreams and not quit just because someone tells him it is lame. I want him to have ideas about what is good and right and then pursue them.
Speak Out.
I want my son to speak the truth in love, but I think this is so hard for teenage boys.  He's a freshmen in high school, and my wish for him is to be courageous and to stand up for others.  I want him to tell his friends to quit being knuckleheads when it is the right thing to do. Doing nothing is often times just as wrong as being the aggressor, and I want him to live this out.
Stand Strong.
I want my son to be firm when others challenge him.  I want him to listen with an open heart but ultimately, I want him to be rooted in a truth no one can shake.
Stay Humble.
We obviously want our sons to be proud of who they are and what they stand for, so how does humility factor in?  I think this pastor nails it when he says, "Don't think less of yourself, think of yourself less."  This is so true.  We want our boys to like who they are and to want to get better…..but we ultimately want them to also have servant hearts.
Serve the King.
"Live for a greater reward." Isn't this the ultimate? We want sons who know who the King is and then live according to His will. The best we can hope for is that our sons love the Lord with all their hearts, souls and minds…..and then to love their neighbors as themselves. We must give our sons a heart for Jesus.
So, there is my quick attempt at 5 "rules" for what it means to be a man. I'm not saying it is easy or fun, but it is so important to raise our sons to be the men we want living in the world. Let's encourage them, pray for them and guide them as they enter into the world of adulthood.