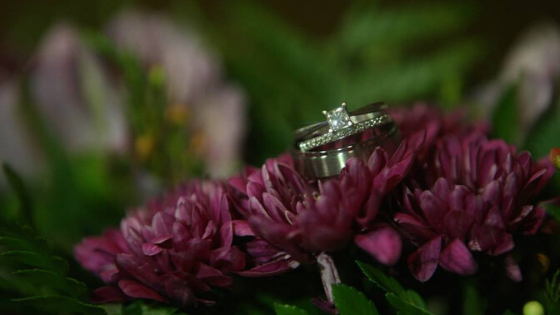 This Saturday, my husband and I will celebrate our fifth wedding anniversary. (Fun fact, Chelsey – our executive director – and her husband, Don, are celebrating 15 years today!) While I'm not sure five years really qualifies me to give solid marriage advice, I have learned some things about marriage along the way.
Marriage is pretty fun when you're friends with your spouse.
My husband (Simon) and I both have great examples of parents who are best friends. As we grew up, we each watched as our parents showed us what it looked like to be each other's confidant and really enjoy being with each other.
While Simon and I shared a lot of similar interests even before getting married, marriage can help form even more similar interests if you let it. (I used to never watch nature documentaries. Now Simon and I watch them all the time.) And I've grown to hate doing things, especially new things, on my own – not because I feel like I can't do them without him, but I just really enjoy it when we're able to share experiences together. He's my best friend. We've gotten to travel, move around the country, and form our own life with our friends and church family, house, and a dog. We've shared some special moments with our families here in the States and in South Africa, including with our nieces and nephews. We get to do every day things like playing board games, binge-watching shows, yardwork, taking our dog on hikes, and competing or watching each other compete in athletic events. And I love that Simon and I have been able to do all of those things together.
Most marriage disagreements aren't really about who's wrong. 
"It's not wrong, it's just different." I can't remember who I first heard that from, but I'm not sure there's been a statement that has struck a chord with me more than that one. When Simon and I did premarital counseling, one of our biggest takeaways was the importance of being mindful of our different backgrounds. While Simon and I had fairly similar upbringings (which is fairly remarkable when you take into account that we grew up on different sides of the world), there are of course things that were different – little things like organizing documents or reloading toilet paper. I can't tell you how many times over the last five years I've gotten upset because Simon put something in the wrong spot… but it's not the "wrong" spot. It's just different. (I'm literally reminding myself of this as I type it.)
Which brings me to my next point:
Marriage brings out the worst in you.
I thought I'd seen the ugliest sides of me before getting married. Nope. You know the "love chapter" (1 Corinithians 13) that most pastors preach at weddings? "Love is patient, love is kind… not easily angered, keeps no record of wrongs…" That definitely doesn't describe me most of the time, especially when it comes to loving my husband during a disagreement. I mean, I think I've gotten better at those things over the last five years – it helps that Simon is unbelievably patient with me. But one thing I do know is that the love in 1 Corinthians is not that lovey-dovey emotion I felt when I was walking down the aisle. That feeling is gone real quick when Simon fails to meet some expectation of mine (that he most likely didn't even know I had). Every married couple fights – differences inevitably pop up, but it's how we handle those differences that matters.
Side note, our dog will let us know when things are getting a little too tense. She hates it. She gets all sheepish and will either sneak off or timidly come up to us and smile. (Yes, she actually smiles. But in this scenario it's like a passive smile asking us – well, usually me – to stop yelling.) Nothing like your dog calling you out for the way you treat your husband…
Marriage isn't about me.
This one goes hand-and-hand with the love the apostle Paul was talking about in 1 Corinthians 13. We're all naturally selfish. So to have a successful marriage, it takes denying of self and sticking it out – sometimes only because you made a vow saying you would. It means learning to acknowledge all of your ugliness or working on recognizing that sometimes the things your spouse does aren't wrong, just different.
But ultimately marriage isn't about my happiness or even about my husband's happiness. It's about glorifying God. The greatest commandment is to love God, and the second is like it – to love our neighbor as ourselves. (That includes my spouse.) While Simon and I both had that perspective coming into marriage, it doesn't mean it's always been easy to remember.
And finally, marriage will never be enough.
Whether you've been married for a day or 50 years, are divorced, dating, or single and want to be married (or maybe you're not sure if you do or if you will) – if there's anything you remember from my ramblings today, I hope you remember this.
I always had a general idea of what I wanted my life to be like, but the only thing I knew I wanted for sure was to one day be married. Then when I did get married, I quickly realized that love and marriage was not the be all end all that our society (and even the Church) makes it out to be. As great as Simon is, he can never live up to meeting all of my needs and expectations. There's only one Person who will never let me down, never grow tired of me, and whose love will never waiver regardless of how many times I fail him.
That's not to say that marriage isn't a great gift we can enjoy and that God will and does use. But it shouldn't be our ultimate goal in life or where we go to find fulfillment. It isn't what brings meaning to life. Marriage pales in comparison to being loved and used by the God who created the universe. The God who died for us. He is the one – not marriage or anything else – who brings true joy and meaning to our lives.