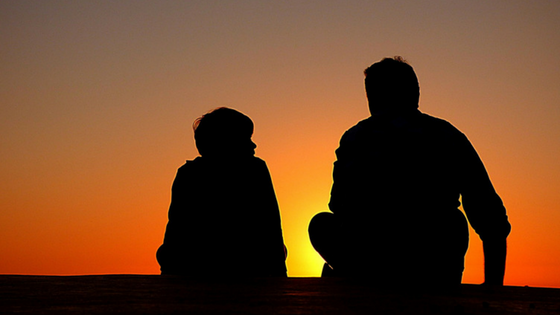 I highly doubt my husband and I are going to be awarded medals any time soon for our efforts in parenting. In fact, we are constantly learning what not to do and reflecting upon how we handled things and how we might "do better next time." Yet, there are so many ways in which our Heavenly Father gives us an example of how to parent and love our children. As I recall a moment during our family vacation last week, I see the Lord's graceful hand, but I've also been given another glimpse of his fatherly love for his children. However, in the midst of the event in which we briefly lost our son at a Cubs game, I kinda lost my mind.
"Endure hardship as discipline; God is treating you as sons. For what son is not disciplined by his father?" Hebrews 12:7
First, the Cubs won!!! So, the energy within Wrigley Field had us on cloud nine, and we were ready to catch an Uber back downtown to grab dinner. But first a stop at the bathrooms was a must. Imagine it, a sea of people all wearing the same red and blue colors. My husband, Don, and our nine-year-old son, Max, got in line for the men's room while I kept going on route to the women's. As I walked out of the women's room, my husband urgently grabbed my attention from the side and said, "I can't find Max!"
I believe that most all of you reading this have an idea of the terror that statement brings to a mama's heart. You immediately begin the search, but everyone is wearing a Cubs hat! Praise God, our nightmare was momentary, and we found our son waiting beyond the bathroom entrance. It seems Max did not follow the instructions from my husband to wait for him to finish up. Max exited the bathroom by the entrance door, and a few moments later Don left through the true exit door. They weren't far from each other, but in this crowd of people they could not find one another easily.
Well, Don spotted him first and bolted towards him with intensity. I froze watching with relief and fear of what might have been. My heart flooded with emotion as I watched my husband discipline our once lost child. It was intense but so full of love and emotion for his son. A father, bent down, looking straight into the eyes of his son, speaking directly to his heart, mind, and soul. He must listen, he must follow direction, he must stay close.
"He is on the path of life who heeds instruction, but he who ignores reproof goes astray." Proverbs 10:17
In that hard but merciful moment, I saw a father's love that was so intense and pure. My husband was pouring out his love through discipline and care for our son. I believe our Heavenly Father does the same for us. We are provided instruction for a way of life that will bear fruit. When we do not follow instruction we are lost, and danger is imminent if we do not find our way back to the Father. Just as parents provide rules, structure, and direction to keep us safe and educate us along the way, our Heavenly Father's laws of life are there to ensure his promises for life are fulfilled.
As for our family, we left Wrigley Field that day, our experience changed in an instant. We walked out holding hands, tearful from the emotions that we'd experienced but so very thankful that our son found his way back to his earthly father. And Don loved him sooo much that he intensely gave him discipline and instruction to ensure he would not stray again.
What is your Heavenly Father intensely and lovingly saying to you? Where have you gone astray? Can you hear him calling your name? Calling you back to his safety?
Father, you know each of us by name. When we stray we move from the safety of your arms into the dangers of this world. Keep us clinging to you, Lord. Help us to remember that life without you and on our own is nothing compared to the delight in which you have planned for our lives with you. For you are a Father that loves his children in immeasurable ways. Praise to you, Lord, for your love and grace upon our lives. Amen.