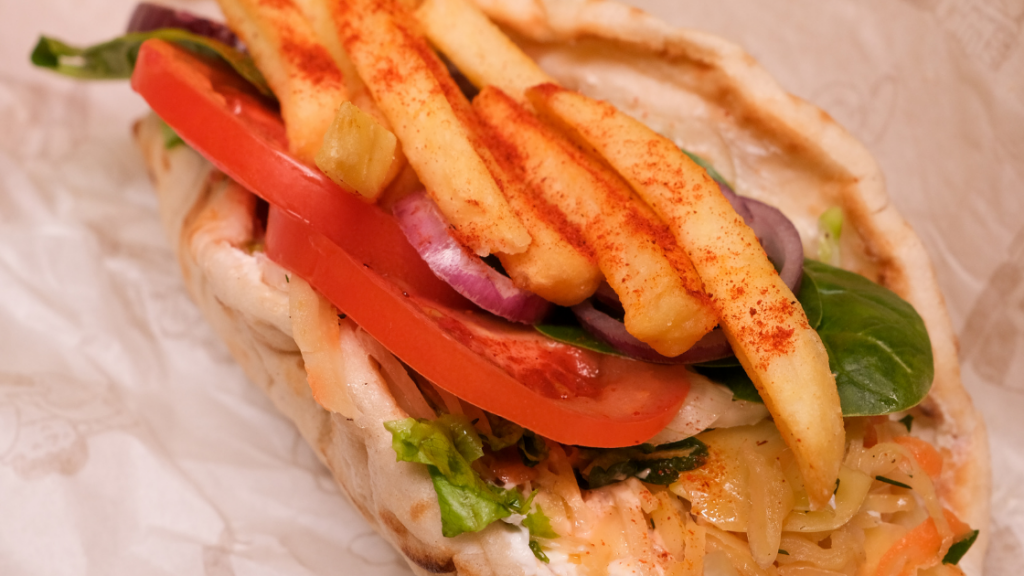 It was hot. It smelled like fried food.  Between the hum of human chatter and summer cicadas, there was a constant rhythm to the place. Bursts of laughter erupted from random groups.  Squeals from baby children and animals floated across the breeze. Cute outfits.  Anticipation. And lines… lines for the feel of adrenaline. The feeling of being happily satisfied. The feel that life is o.k. for a day, even a few hours as one chooses to lose themselves amid the bustle and at times, the chaos of humanity.  And there I was – in the middle of it all…  
The Iowa State Fair – need I say anymore, haha!  You know the feeling, where you are just dying for that fried brownie or whatever makes you tick and feel like a kid again? Kettle corn? Footlong corn dog?  Salad on a stick? (What?!?!) For me it was a gyro: warm flatbread, purple onions, sliced tomatoes, shaved beef, and topped with this incredible amazing tzatziki sauce.  C.R.A.Z.Y. good. And yep, I was the one in the long line – waiting for my gyro that for some reason only tastes best AT the fair.  
Apparently, I wasn't the only one having visions of my next cheat meal. Behind me, in true fair fashion (and one I heartily approved of), a guy pipes up (the kind of guy that will literally talk to anyone next to him), "My year isn't the same without my gyro!!" The random guy next to him chuckles and with great enthusiasm exclaims, "Same!!" I turned around and smiled at the common bond we now all shared over a gyro. 
After ordering, I made my way back to a seated area. I don't know how many times I said, "Excuse me!"  I was on a mission! Ahhhhh. I lowered myself to the grass, unwrapped my hot gyro, and sunk my teeth in. It was every bit worth the wait. The money. The lines. The random strangers. The roar of voices. Would I do it again? Yes! Because I knew the outcome – the taste of satisfaction. Of saying to myself, "Good pick, girlfriend!" 
It wasn't until two days later when it all sunk in. The whole gyro stuff. I was like, "Wait! This guy's year isn't the same without his gyro…" What if I had been standing in a line and my gyro buddy had said, "My year isn't the same without my Jesus!" I would have turned to him and said, "Dude!  Tell me more!" I mean, seriously, could I imagine my past year without Jesus?!?! 
It was a moment where I just sat there staring and processing that reality. That truth. The fact is, I don't think any of us would be doing well this year "without our Jesus." Our Supporter. Comforter. Lover. Leader. Shepherd. Guide. Constant in Truth. Beacon.   
I think about the year ahead of us all. The unknown. Things happening overseas. Planning to only have it become unplanned. The J.O.U.R.N.E.Y. Because it is a journey filled with lines, adrenaline, hordes of people, and anticipation of what's to come – that moment we see our Savior face to face, where we sigh with relief when we finally get to hug Him, to hear Him say, "Good pick, girlfriend!" (Okay, I might have modified that to 2021 lingo.)   
But in all seriousness – would I do it again? I know I wouldn't choose to do this last year again – but I will choose, am choosing, to do this year. And with each yes comes the realization of the fact that I am doing it again – and again – because I want the reward and I know the end reward.   
The process is hard – the wait is sweaty most of the time because it's a constant war. But yes – the satisfaction of the pearly gates and Heaven's golden streets and that aweing fact that there will be NO sun needed because the Lamb is the Light… 
And we will be more than happily satisfied – nothing impure will ever enter in…  
And that feeling of life being okay for just a few hours – why not for E.T.E.R.N.I.T.Y. 
Cute outfit? Swapped for a white robe…  
And the wait? It was every bit worth the wait…  
"There will be no more death or crying or pain… I am making everything new…  hose who are victorious will inherit all this…" Rev. 21:4,5,7 
I don't think I will ever look at a gyro the same after this year, and frankly, give me any year without my gyro – I have my Jesus…