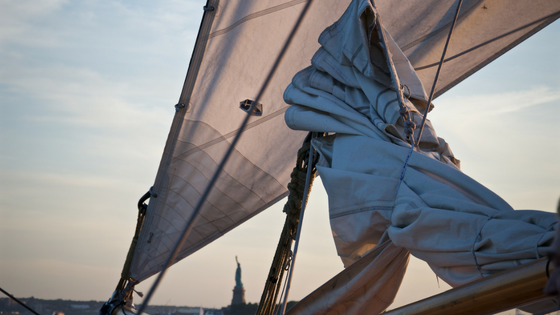 We cannot direct the wind, but we can adjust our sails.
I was always the crew. I've been the crew since I was about 5 or so years old and my Grandpa Rudy put me in a sailboat with Andi, my 7-year-old cousin. My illustrious sailing career started the moment the boom swept across the boat and promptly deposited me into the lake and my Coke-bottle glasses to the bottom of the lake. Sadly enough, as I sit here at 43, I find that the wind is sometimes still directing my course.
As Andi and I advanced from sailing school to being decent competition for all the boys, the wind was pushing me here and there. I was a silly teenage girl who wanted boys to notice her and didn't mind at all that it was about looks and being popular and who's Sperry Top-Siders were the coolest. High school was pretty much fitting in and making sure my hair was big enough to make me part of the "in" crowd. My tight-rolled jeans and rugby shirt made the perfect senior picture outfit and I headed out into the big world.
It was really during college when I even noticed wind was blowing and that I didn't have to just go where it directed me. It was also during this time I realized the importance of who I had in the boat with me. As it turns out, you don't have to just let people onto your boat. And, you don't even have to keep people on your boat for the entire ride. Think about it…..how many times have you let someone in your life because they were there? Because they asked? Because it seemed like the "right" thing to do? There are so many wrong reasons to let people into your world. Your time is limited. Only let the good ones on your boat. And don't be afraid to pitch someone overboard. It is your boat, sister…..you get to make the decisions.
The one thing you can't control is the wind. I think of the wind as life. Life dictates our circumstances. There will be gorgeous times on the water. Cool breezes and sunny skies. Think of these as times when your teenager listens to you and your boss is extra understanding. These are times when even the dogs behave. Enjoy those times. Then, there will be times when there is absolutely no wind. Oh, you'll not want to go out in the boat but your parents make you. The huge waves will rock your little boat and you will wish for death. Wait….that is a totally different story. But there will be times when you are bored. Nothing is happening and it might seem like it never will. You will wonder why you are even out in the boat. It's hot and stifling and feels like your life is not going anywhere. Why is it so hard for us to be still, to wait? If I knew the answer, I would totally tell you but I don't. I'm not good at waiting. So if you have the answer, please write to me at kylee@bridgehavencr.org. I can write my next blog about that, and we will all have the answers.
The most difficult times on our boats are when the weather is crazy. There are huge whitecaps, gusty winds, dark skies and perhaps even torrential rains. We probably feel like there are not enough people on our boats and that the terrible weather will never end. Sometimes, we might panic even if there are enough people on the boat. I remember a time when the wind was wicked, so our parents gave Andi and I our little sister and little brother to sail home with us so we could make it there safely. Our parents were on the boat right beside us and I remember my dad in his calm and gentle way say, "Don't panic. You are fine." My brother replied in a squeal, "I'm panicking. I'm panicking!" We laugh about it now but how often is this true for us in our lives? We are going through something horrible and the Bible tells us 365 times to not be afraid. Seriously….it cannot be a coincidence that it works out to every, single day of the year. God is good, friends! Despite this, we are afraid. We don't know if things will work out. We panic.
God is with us. He never leaves us but He also gives us the ability to adjust our sails. We can make it through anything because He is with us. We can change our course, add people to our ship or throw someone overboard and make our sail smoother. He gives us the ability to discern and think and make decisions. We can get better equipment and make improvements to our boats all the time. He gives us community to reach out to for help and He never, never leaves us alone in the boat. I am comforted by the fact that no matter how bad it gets on my ship, I can look over and God is in the boat next to me and with his calm and gentle way, He says, "Don't panic. You are fine."
Be strong and courageous. Do not be afraid. Do not be discouraged for the Lord your God will be with you wherever you go. – Joshua 1:9