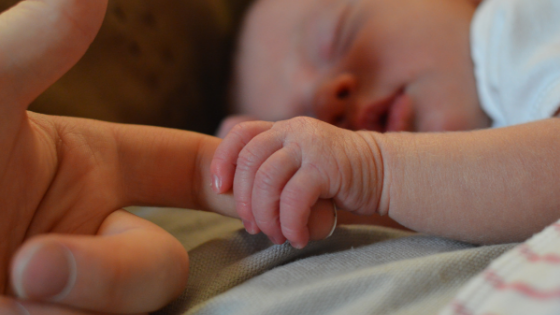 "For I know the plans I have for you," declares the Lord, "plans to prosper you and not to harm you, plans to give you hope and a future." Jeremiah 29:11 
You and I have never met. There's a good chance you're not aware that I exist. But you changed my life, and I am eternally grateful.
I can't imagine what you felt when you learned you were going to be a mom again. You were already the single mom to a toddler. Were you angry? Scared? Did you feel alone? I don't know how it all went down, but I hope you were able to sort through your feelings and options with someone who didn't judge you but just listened and loved you.
I may be biased, but I'm so glad you chose to make an adoption plan. It couldn't have been easy, especially not 30 years ago. I'm thankful you spoke to your nurse about it. I know she became an advocate for you and was determined to help you find the best family for your unborn child. She and a friend were able to think of a couple they knew that had been trying unsuccessfully to have children for a few years. Even though this couple hadn't considered adoption before, when they got the call, they knew it was right.
I can't imagine what you felt a few months later when you gave birth to a sweet baby boy. I can't imagine what it was like to say goodbye.
See, the reason I'm so thankful is because just 14 months after that couple flew home with that baby boy, they miraculously ended up having twins. And one of those twin babies was me.
I've never known life without my brother, and I've never not known he was adopted. There was even a picture of you up in his room. Since it was a closed adoption, we don't know much about you, but my parents always spoke of you with such honor and respect. And I have always been so proud to share that my brother was adopted.
I want you to know that my brother is one of the hardest working and loving people I've ever met. We've had our fair share of fights just like any normal siblings, but there's no one else that has my back more. He has a beautiful, amazing wife and two of the most adorable kids you'll ever meet. He exemplifies love to them and to me and to the rest of our family, even when it hurts or means making sacrifices. And that's something I think he first got from you.
I don't know if you believe in God, but I believe with all my heart that He is good and His plans are good. And I also believe with all my heart that He chose to delay the start of our family because it wouldn't have been complete without my brother. So thank you. Thank you for giving life to my brother; for making the brave decision to choose adoption.