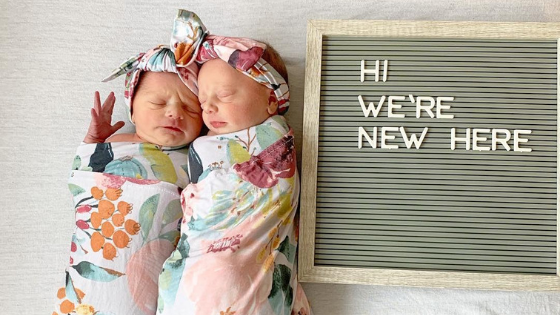 I find myself in this middle ground. Lately, I could even describe it as an island between two looming continents. I'm torn, daily, about which direction to go. In one direction, 180 miles away, is my daughter who recently delivered twin baby girls five weeks early. In the other direction, 400 miles opposite, is my mother who recently had hip replacement surgery amidst a number of other health complications.
The twins are thriving – a miracle that we praise God for with every breath they take!  They are home with mom and dad and a very proud, but precocious, two-year-old big sister. Because of the C-section and a very short two-week paternity leave, they need help – a lot of help! And because of my mama's heart, I need to help, and I need to hold those little peanuts (now 5 lbs each), and I need to make sure big sister is getting her share of attention.
My mom is aging and, well, large and in charge. It is a daunting task for my sister and I to be the ones to restrict her activities, question her judgment and abilities, and convince her to go gracefully into a new season of life. Tomorrow she moves from a care center back home (me: trembling with trepidation). Moving her is big enough. Arranging all of the care and assistance is complex. Adding in the caveat of insurance, Medicare, and finances further complicates things. Mix in personalities, strong will, family dynamics and…you've got yourself a rodeo!
The struggles between the beginning of life and the end of life: one struggles to get into the world, the other struggles going out.
One of the hardest things is to have a front row seat in this theater of life. Reminiscing about the births of my own children, and marveling and relenting at how fast the years have gone by. But also cringing as I look at what's ahead with my own aging process, praying that I can somehow do it more gracefully and joyfully than what I have witnessed.
We are drawn to new life because of the miraculous mystery of the whole thing. There is such awe in just watching these tiny humans breathe and stretch and grunt.
We are reticent about the end of life because we grow fearful of the physical and mental deterioration that eventually moves completely out of our control.
There is a similar tension in our spiritual life continuum. The miraculous mystery of our new birth in Christ and the reality that this is a temporary home, and the best is yet to come. But we forget. The older we get, the more life circumstances we experience. The highs are high, and the lows are soo low. Our bodies age and our minds dull. We grow closer to heaven each day, but must live fully and purposefully while we wait.
At one end of the spectrum…
"This means that anyone who belongs to Christ has become a new person. The old life is gone; a new life has begun!" 2 Corinthians‬ ‭5:17‬ ‭NLT‬‬

"For you were buried with Christ when you were baptized. And with him you were raised to new life because you trusted the mighty power of God, who raised Christ from the dead." Colossians‬ ‭2:12‬ ‭NLT‬‬
At the other end of the spectrum…
"And we believers also groan, even though we have the Holy Spirit within us as a foretaste of future glory, for we long for our bodies to be released from sin and suffering. We, too, wait with eager hope for the day when God will give us our full rights as his adopted children, including the new bodies he has promised us." ‭‭Romans‬ ‭8:23‬ ‭NLT‬‬
And in the meantime…
"While we live in these earthly bodies, we groan and sigh, but it's not that we want to die and get rid of these bodies that clothe us. Rather, we want to put on our new bodies so that these dying bodies will be swallowed up by life." ‭‭2 Corinthians‬ ‭5:4‬ ‭NLT‬‬
As Paul David Tripp puts it, "we are living between the Already and the Not Yet." It is thrilling and compelling and amazing to live between these two tensions. It is also exhausting and confusing and challenging.
Our challenge is not only to live in the present, but to live presently in light of the Gospel, right here, right now.  In 1 Peter 5:12, Paul says "My purpose in writing is to encourage you and assure you that what you are experiencing is truly part of God's grace for you. Stand firm in this grace."
Stand firm in this grace. On your island. Between the Already and the Not Yet. In every conversation, in every mile traveled, in every challenging circumstance and in every miraculous joy, be present and find the Gospel in those moments.
I have to go pack now.