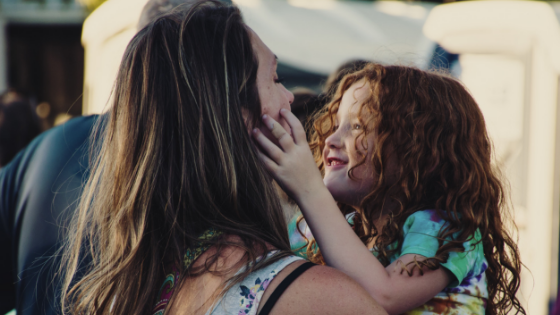 Every September, mothers around the country exhale a collective sigh of relief. Summer is over and school is back in session. We get back into the swing of things with our schedules and disciplines. As we strive for a feeling normalcy, we make Pinterest-inspired schedules and stick to bed times. It's time to relax, celebrate. You made it through the summer …right? So why does it not feel normal yet?
Okay, let's stop fooling ourselves right here. Normal, the idea of normal in the lives of wives and mamas, just doesn't exist. I love to say it out loud though, to convince myself that normal is a thing that I can achieve and believing that when I do everything will be perfect. (Oh gosh, and don't get me started on "perfect"…ugh.) This desire for "getting things back to normal" gives me a sense security, a sense that I can attain control over things at some point in the near future.
Listen up! Normal is not attainable. Things will always be changing and moving, and this will cause you to be in a state of constant adaptation. Our happiness through all things depends upon our belief in the Truth.
"She is clothed with strength and dignity, she can laugh at the days to come." -Proverbs 31:25
Let that wash over you. Strength and dignity. These attributes are gifts from God; they are tools for living our busy lives. The Lord intends for us to "put on" strength, "put on" dignity as we move through life. These attributes prepare us for the rocky terrain of life, the unknown ups and downs that keep us from our desire of a normal life or schedule. They help us to change the paradigm that normal is perfect, that routine will fix everything stressful about life, and that relief is just around the corner.
Relief is today. Proverbs 31 continues with…
"She speaks with wisdom, and faithful instruction is on her tongue. She watches over the affairs of her household and does not eat the bread of idleness. Her children arise and call her blessed; her husband also, and he praises her: 'Many women do noble things, but you surpass them all.' Charm is deceptive, and beauty is fleeting; but a woman who fears the LORD is to be praised." -Proverbs 31: 26-30
Okay, before you ask, "Who is this lady?" and "How can I be more like that?" take a look in the mirror because she is YOU. The Lord is talking to YOU. With Him and through Him, we can experience the harmony this verse promotes. When we seek Him instead of "normal," we find moments that matter around every corner. We find joy in the midst of chaos and transition.
Ladies, we set the tone for our homes. We have influence that is greater than we comprehend. Let's not buy into the belief that things have to be a certain way for us to find peace and harmony in our homes. Normal is an expectation that will give you a false sense of security. Jesus is our foundation for life, and a life centered on His instruction and promises will never steer us wrong.
Lord, help us wives and mothers to remove "normal" from our vocabulary. To settle into the life You have us in and to evaluate life by a different measure than our own earthly exceptions and desires. Help us to be a generation of women who seek whole-heartedly after You; who love You, seek You, fear You, and follow You. Grow our trust in You, Lord, for You love us and our families more than we can imagine.