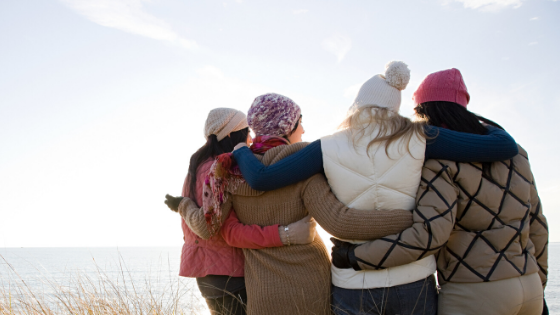 I have been reflecting a lot recently and have come to an even deeper realization of how much we need each other in this world. In my professional life, my personal life, and just witnessing the needs of those around me in our community, it is abundantly clear to me that God has created us to be in relationship with each other and with Him. There are so many challenging circumstances and emotions we come up against each day, and God has made it known that He doesn't want us to do this life alone (Genesis 2:18). He has also shown us that we are to rejoice with each other in the good times and celebrate our gratitude together (Romans 12:15).
I don't know what you are facing today. Maybe you're finding it incredibly difficult to take a step forward. Or maybe you are experiencing some of the greatest moments of your life. But whatever situation you find yourself in, I encourage you to think about those people in your life you can reach out to and process whatever you're going through with. Too often we stay silent out of fear or we don't want to be a burden to others. Or you may not want others to feel bad if they aren't experiencing the same kind of joy or happiness you have right now.
We are made to be there for one another in the good and bad times, and I think we need to be encouraging each other to be bold and say the good, the bad, and the ugly. We need to be willing to be heard and we also need to be willing to seek to understand, no matter what that person may be facing on the other end.
I'm sure each of us has experienced how impactful it is when someone reaches out to see how we are doing or how they can best support us right now. And you've probably also experienced just how much of a blessing it is when someone trusts us enough to share something deeply personal and allows us to enter into that with them. Being there for each other has the power to teach us so much about the gifts God has given to each one of us and to reveal God's character as He works through these conversations and relationships.
As we enter into this time of Thanksgiving, may we take some time to give gratitude and praise to God for allowing us to walk with others on this journey of life. May we never forget the power and impact on our lives when we trust and lean on each other.