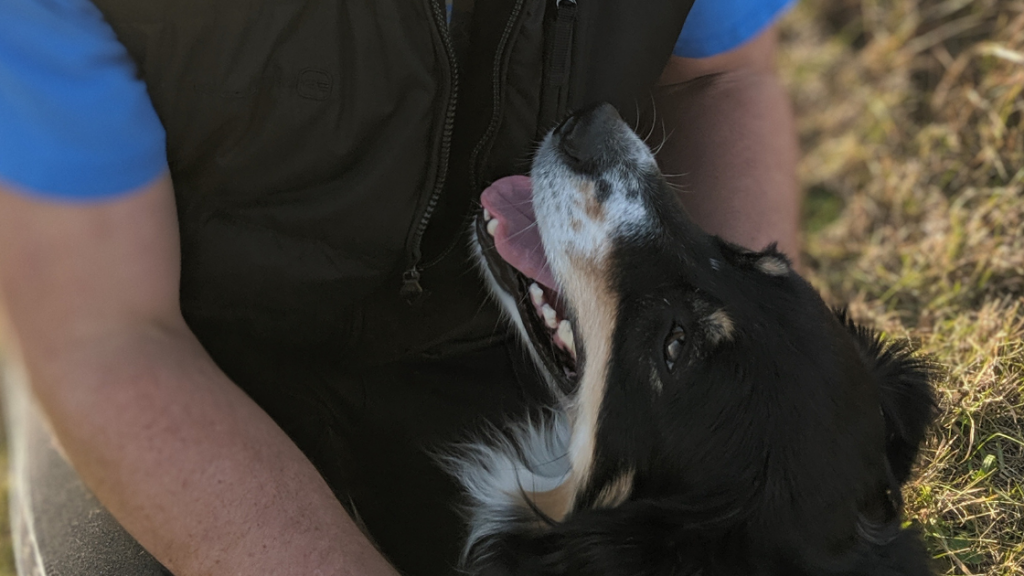 Just about anyone who knows my husband and I knows we have a slight obsession with our dog, Piper. She's a four-year-old Australian Shepherd who somehow missed that Aussies are supposed to be fairly shy with people and instead literally loses her mind with excitement anytime someone comes to the house. She comes just about everywhere with us – when we visit my parents across town, when we take a road trip (she's been to 11 National Parks), and even to the drive-thru (she's gets very disappointed when she doesn't get anything).
Anyways, last week we noticed she was getting low on energy and seemed to be in more and more pain. By the middle of the week, we realized she had a fever and something was pretty wrong. Boy, let me tell you I was worried. I was Google searching everything under the sun, feeling like a failure of a dog-parent as my thoughts quickly escalated: What can I do to make her feel better? What is going on? How could I let this happen to her? What if she DIES?!
After calling several vets around town, we were finally able to get her seen and no, she was not at death's door. After running a few tests, the vet was able to make her diagnosis, prescribe some medication, and out we were, on Piper's road to recovery.
But before I had taken Piper to the vet that morning, I read the day's entry from a devotional calendar adapted from Oswald Chambers' Utmost for His Highest. I hadn't slept much the night before, thinking of all the possible scenarios the morning could bring, so I thought maybe I could use an encouraging word. Well, the first line read:
"God is my Father, He loves me, and I will never think of anything that He will forget, so why should I worry?"
Ouch.
In all my researching and constant checking on Piper, I had maybe offered up a brief prayer or two before turning back to my phone to read why she might have cancer. (She doesn't.) I kept trying to figure out what was wrong myself but ultimately I couldn't. All my worrying had done was given me a false sense of control over something I had zero control over.
"Therefore I tell you, do not worry about your life, what you will eat or drink; or about your body, what you will wear. Is not life more than food, and the body more than clothes? Look at the birds of the air; they do not sow or reap or store away in barns, and yet your heavenly Father feeds them. Are you not much more valuable than they? Can any one of you by worrying add a single hour to your life?" (Matthew 6:25-27)
As much as I love my dog, I know there are much bigger, scarier issues that many of us are facing – here at Bridgehaven, we encounter them daily and they in turn cause us to worry, too as we care for our clients. But worrying will never give us the control we seek over those problems.
Instead, God asks us to do something radically different with our worries:
"Do not be anxious about anything, but in every situation, by prayer and petition, with thanksgiving, present your requests to God. And the peace of God, which transcends all understanding, will guard your hearts and your minds in Christ Jesus." (Philippians 4:6-7)
That's so much easier said than done. And like I did in my Google searching of Piper's ailment, it's easy to offer up our issues to God only to then turn around and take it right back. But God loves us. He wants us to come to him with our worries and let him handle it because he offers us peace through himself and ultimately knows what's best for us. 
"Which of you, if your son asks for bread, will give him a stone? Or if he asks for a fish, will give him a snake? If you, then, though you are evil, know how to give good gifts to your children, how much more will your Father in heaven give good gifts to those who ask him!" (Matthew 7:9-11)
So the questions I want to leave you (and me if I'm honest) with are these: Will you continue to turn to Google instead of prayer? Will you keep pretending you can have control over things you don't? Or will you trust him with your worries?