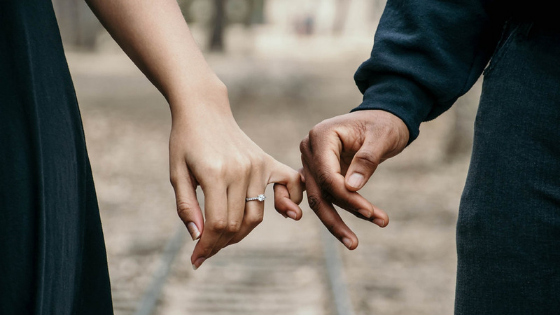 "For wives, this means being devoted to your husbands like you are tenderly devoted to our Lord, for the husband provides leadership for the wife, just as Christ provides leadership for his church, as the Savior and Reviver of the body. In the same way the church is devoted to Christ, let wives be devoted to their husbands in everything. And to the husbands, you are to demonstrate love for your wives with the same tender devotion that Christ demonstrated to us, his bride. For he died for us, sacrificing himself to make us holy and pure, cleansing us through the showering of the pure water of the Word of God. All that he does in us is designed to make us a mature church for his pleasure, until we become a source of praise to him- glorious and radiant, beautiful and holy, without fault or flaw. Husbands have the obligation of loving and caring for their wives the same way they love and care for their own bodies, for to love your wife is to love your own self." Ephesians 5:22-28.
Throughout 2018, Client Support offered several Empowerment Events that provided enrichment for all of our Earn While You Learn clientele. These Empowerment Events align with the message and foundation of the EWYL program and offer unique opportunities to connect with the wider community and partnerships within Client Support.  
Our final 2018 Empowerment Event was on marriage. We had heard from many clients who were unmarried, dating, or cohabitating with their partners that they had a desire to be married. The following are some stats we collected from clients prior to the event:
59 are married.

11 are engaged.

76 single with 24 clients identifying as dating and 27 cohabitating.

25 clients out of the 27 shared they would prefer to be married.
Based on this feedback, we decided to provide an Empowerment Event to speak into that need and desire as volunteers and staff from within the community of Bridgehaven shared wisdom, challenges, skills, and experience they had learned within marriage. Our goal was to share practical wisdom and experience for anyone despite relationship status.
We invited seven different couples to share on a panel. One of the things we asked of each couple was to to share a marriage motto. Some of the mottos we heard were:
"It's not wrong, it's different."

"We have learned to love each other when we don't like each other."

"Adapt and overcome."
Since this event, we've received some amazing feedback, and I would love to share some of our client responses with you:
The most useful information I learned in the class was:
"To put God first."

"Conflicts are something that happens to all couples but there are different ways to deal with it."

"To be able to communicate better and to allow your spouse's ideas to be heard and used."

"Reminded to have patience and understanding with spouse."

"That the way you grew up impacts how things go in a marriage (big eye opener)."

"To understand each other's differences and keep patience between each other."

"Hearing happy couples have struggles."

"Marriage is a union, it's not about just you. You have to think about your spouse. It's a commitment."

"The openness and honesty. Examining the joys and the trials. I'm still working on seeing joy in the trials."   
My favorite part of the class was….
"The different stories of challenges that each couple shared. The example of the triangle looking toward God."

"Having people of different background and ages on the panel."

"They shared real life stories."

"Seeing that other couples go through similar rough patches in a relationship."

"Talking about the importance of a wife respecting her husband and a husband loving his wife."
We are so thankful for the encouragement and connections that were made, and we are still hearing of even more ways this event has impacted people's lives and conversations with their significant others. To follow up our Marriage Empowerment Event, we are excited to now be offering a class on Love and Respect.
"Respect is a magnet.  It will instantly draw towards you the object of your respect.  Respect will give you entrance to intimacy in the lives of others.  It will take you to secret places where only a few are allowed to go.  Showing respect towards others reveals a lot about your character. It reveals that you are a person of dignity and self-respect, for you cannot give something that you do not possess.  Being a respectful person shows that you place great value on the lives of others, and therefore, you are someone who can be trusted with the valuable secret's of another's heart." The 10 Critical Laws of Relationship by Robb D. Thompson.