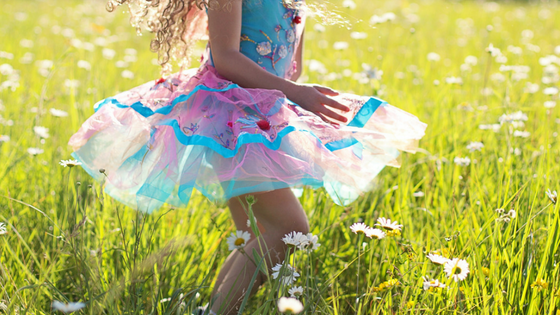 Imagine with me. You see a little girl, possibly just six years old. She has long, blonde hair pulled into tight ringlets. She's wearing a little dress that has just the right amount of poofiness, with a pair of white pumps, perfect for going to church. She spins and twirls that tool-lined dress in front of the church choir practicing their choir anthem for Sunday service. As the song comes to its climax, her spinning leads her right in front of the cute, older, blond-haired, blue-eyed boy she has had a crush on from the time she could stand on two feet. Not knowing what overcame her, she leaned in and kissed that boy on the forehead. Not even a second later, she was out the door and halfway down the hallway, giggling with her cousins.
This same little girl begged her mom and dad for a Barbie every time they went to the store. The very same little girl always wanted just one more treat. That same little girl grew up, and as she grew up she continued to look for more, ask for more, and desire more. As the little girl got bigger, her dissatisfaction grew as well.
If you haven't guessed yet, that little girl was me.
From a young age, I have been discontent in life, whether it was wanting a boyfriend or husband, wanting children, wanting the next best phone, or the newest toy. I was, and at times still am, unable to find joy in what I do have while always desiring what I don't.
The discontentment became even more prevalent going into college. When you go to college, you're suppose to meet the love of your life, get married after graduation, and then start your family. Right? At least that is what happened for my mom and dad, both of my brothers, and many friends. Rather than looking at how God will grow me, change me, and bring me closer in relationship with Him, all I could think about was, "Which of these guys I am passing is going to be my husband?"
In the midst of these thoughts, God brought to mind His beautiful words of truth. Words I had heard before, but made my own meaning to. He redirected my thoughts and taught me what He was saying in these words.
"Take delight in the Lord, and He will give you the desires of your heart." Psalm 37:4
What encouraging words right? I mean, all I have to do is take delight in God and He will give me whatever I want. Right?
Oh was I wrong. Because when I started truly delighting in God, my desires changed. As I read God's word and found myself truly knowing God, I started desiring to know Him more, know His word and His plan more. When I started delighting in God, I started desiring worship and godly community. When I started delighting in God, I stopped focusing on my lustful thoughts, my envious wants, and my coveting feelings, and I started desiring the only One who could satisfy. God the Father. The Creator who wants me, who loves me, and who takes delight in me as well.
I will not say my contentment is perfect. I still want what I do not have, I still look towards the future more than living presently with where God has me in this moment, but my thoughts get redirected. God's truth rings in my heart. And I find my satisfaction in God again and again.
"The Lord is my shepherd;
there is nothing I lack.
He lets me lie down in green pastures;
He leads me beside quiet waters.
He renews my life;
He leads me along the right paths
for His name's sake.
Even when I go
through the darkest valley,
I fear no danger,
for You are with me;
Your rod and Your staff —
they comfort me.
You prepare a table before me
in the presence of my enemies;
You anoint my head with oil;
my cup overflows.
Only goodness and faithful love
will pursue me
all the days of my life,
and I will dwell in the house
of the Lord as long as I live."
Psalms 23:1-6 HCSB