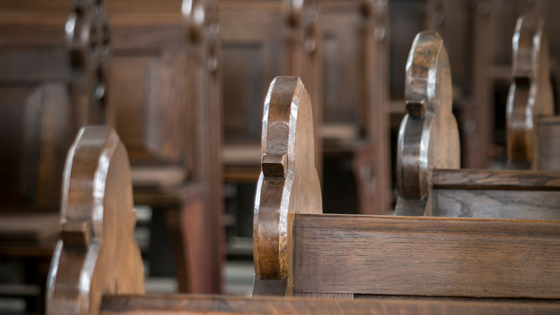 At the 2015 Care Net conference, Roland Warren, President of Care Net, shared with us and other pregnancy support centers from around the country that God had given him a vision. That vision was to see pregnancy support centers re-evaluate and incorporate a mind and heart to work to the next level of ministry to build up of the Bride of Christ through effective evangelism, discipleship, and connecting our clients to local churches and faith communities.
Since 2015, Client Support has focused on church engagement: encouraging clients to be connected to the local Body of Christ. We've communicated this focus within Client Support to build a foundation of this vision with our clients.
In 2018, the focus and intent of this engagement is increasing!
In January 2018, Client Support released an article in the client-focused publication, Good News. In this article, our Childcare Coordinator, Kelly Ross, shared some insights and research on the importance of ministry for children. The following is an excerpt from her article:
"Through my research on the topic, I discovered through the Barna Group 2009, that more than half of people who will accept Jesus as their Lord and Savior do so before the age of 12. Between the ages of 4 and 14 is a window of opportunity where a person is most open to the Gospel of Jesus Christ. I also found a study done by Awana on the effectiveness of their program. Here is what they found:
| | | |
| --- | --- | --- |
| | Awana + Attended Church as Child | Attended Church as Child but no Awana |
| Percent that regularly attend church as an adult | 92.7% | 36% |
| Percent that wholeheartedly believe in God | 93.7% | 65.8% |
| Percent that believe Jesus is God's Son | 98.6% | 70% |
| Percent that believes the Bible is God's Word | 94% | 58% |
"Children are so young and innocent that it can be difficult to realize how much they are actually learning and getting out of children's ministry or Sunday School. However, we see from these two studies that children's ministry and Sunday School are important aspects of a child's life shaping key morals and beliefs along with the parents."
Some client feedback on this article:
"It has opened up my eyes to what I need to be doing as a parent and taking the lead to teach my children appropriately first and foremost."
"I am shocked. I was in Awana as a child and honestly disliked it! But here I am, a firm believer in Jesus and regular church attender. I might have to talk to my husband about enrolling our children or at least do Awana-like activities with them more often!"
"Makes sense the best time to teach anyone is at a young age while they are pure and innocent."
"It's an important reminder that a relationship with God starts in the beginning. That our children need to be brought up with a strong foundation because they are the future."
 Several clients approached us about this article have since enrolled their children into Awana. We desire to continue these conversations and focus on church engagement in Client Support so whole families can become connected, engaged and built up in local church families.
In addition, we are collecting feedback from clients to find out what their current connections are to the local church. We are discovering several clients have past church hurts, are "unchurched," or have a different belief system and are unfamiliar with Christianity, so we are putting several strategies in place for those who are not connected to a church family.
As Kingdom people, we all play a role in building up and making disciples. May we embrace the vision and movement of the Holy Spirit and believe that families will move in truth from confusion to empowerment, fear to confidence, isolation to support, and grief to restoration.
"When they came… they were welcomed by the church and they declared all that God had done with them." Acts 15:4