Client Support Material Needs
URGENT NEED: Our annual School Supplies Distribution for our Earn While You Learn clients is coming up Tuesday, August 3! We are in need of the items listed below. School supply donations can be brought June 14-August 2 on Mondays from 11:30AM-3:30 PM and Thursdays 4-7PM to our Donation Drop Off next to the Client Support Entrance.
What does Bridgehaven currently need? These items benefit our clients who come regularly for our classes or who come in for one-time emergency assistance.
Peanut butter

Jelly
Pancake mix
Syrup
Toilet paper
Laundry soap
Dish soap
Shampoo
Body wash
Carseat blankets*
Is there anything Bridgehaven won't take? Based on inventory and regulations we are required to follow, there are some items we are unable to take. (At this time, this includes most baby blankets except what is listed above.) Please call us at 319-364-8967 if you have any questions or are unsure whether we will take a specific item.
Please also note that there are certain items we will accept at our resale store, Treasures Quality Resale Shoppe that we can't accept at Bridgehaven. All proceeds from sales at Treasures directly benefit the work we do at Bridgehaven, and our Earn While You Learn families are able to shop at Treasures as a part of their earned benefits in our program. Click here for the list of donations we accept at Treasures.
Where should I take my donations? Donations should be taken to our donation drop-off by our Client Support Entrance. Please ring the doorbell to alert our team to assist you. See below for a map for additional directions.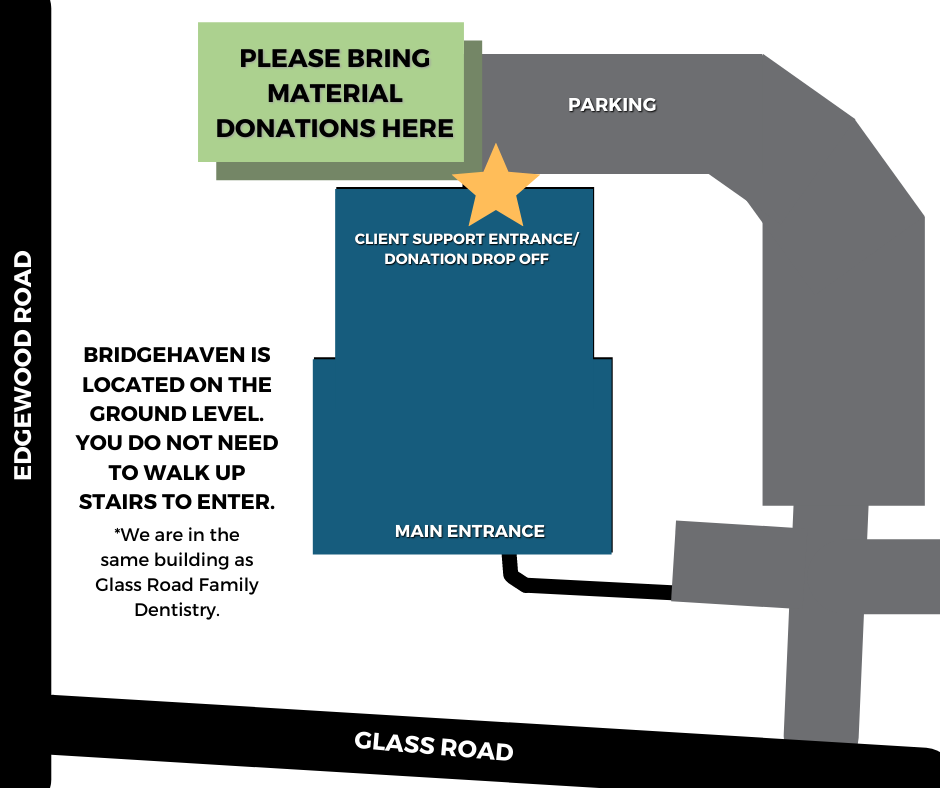 Does Bridgehaven have any online giving options for material donations? Yes! You can also now donate material items for our Earn While You Learn families through Amazon. Click here to check out our Amazon Wish List. Make sure to select Bridgehaven through Amazon Smile when you shop to make your gift go even further.
These are some of the specific areas where we are in need of volunteers:
Client Support

Clerks: Thursdays 1-4PM, Fridays 1-4PM

Treasures

Sorters: Variety of roles and times needed
Cashiers: Thursdays 10AM-1:30PM, Mondays/Tuesdays/Thursdays/Fridays 1:30-5PM, Saturdays 10AM-1PM & 1-4PM
If you haven't volunteered with us before, please visit our Volunteer page to get started. If you are a current volunteer and interested in any of the opportunities listed above, please contact Leanne Rezac.
LOCATION
Bridgehaven Pregnancy Support Center
4250 Glass Road NE, Suite 100
Cedar Rapids, IA 52402
GET DIRECTIONS
HOURS
MONDAY: 10AM-5PM
TUESDAY: 10AM-5PM
WEDNESDAY: 10AM-5PM
THURSDAY: 10AM-7PM
FRIDAY: 10AM-4PM
Closed on Saturday and Sunday.
Bridgehaven is a 501(c)(3) nonprofit organization.
EIN 42-1203675