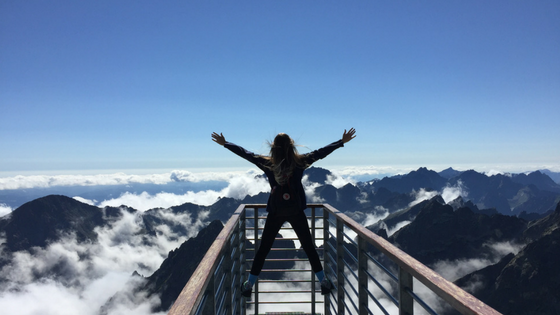 I know something about you.  Yes, you.
Regardless of your marital status, age, ethnicity, gender, income, beliefs, height, or weight– I can tell you with certainty we have something big in common.  We both want to be happy. I know this because it is a basic human desire to yearn for significance, security, and pleasure.
The Hunt For Happy
It's easy to see this in our society.  Look no further than the self-help section of any bookstore and you will find colorful covers beckoning you to spend your money on the answer you've been seeking your entire life.  You can be skinnier. You can be smarter. You can be the best you, right now.
So, if there have been so many books written on finding our truest self and being totally fulfilled, why haven't we, as a society, arrived at peak happiness?  Why is the self-help section still a thing?
Here are a few titles of the bestselling self-help books of 2018:
The Art of Thinking Clearly
Get Out Of Your Mind & Into Your Life
Reprogram Your Subconscious
The Power to Heal Yourself
…Wait, am I supposed to think clearly or get out of my mind?  How can I reprogram my subconscious if I'm out of my mind? What's more– if my thinking is unclear and my subconscious is programmed incorrectly, how in the world am I supposed to heal myself?
Doesn't it make you want to scream?  We just want to be happy, is that so much to ask?  We would spend anything to find the answer to our troubles!
Thankfully, if you are a Christian, your eternal joy has already been purchased.  And thankfully, it's not a temporary, plaster-a-fake-smile-on, glass-half-full, relentlessly upbeat chipper attitude.  It's forever joy, in good times and in suffering.
Joy in Good Times
"True happiness is not found in any other reward than that of being united with God. If I seek some other reward besides God Himself, I may get my reward but I cannot be happy," wrote Thomas Merton.  And even if you got your "reward," it certainly wouldn't be eternally fulfilling. The fastest way to get lost in a joyless wilderness is to seek satisfaction in anything other than the triune God. This is my experience when I settle for scrolling through Instagram instead of savoring the glory of God in His word.  This is what's happening when I binge on Netflix alone instead of getting coffee with a fellow believer to help shoulder her burdens. I mean let's be real, sometimes downing a pint of ice cream seems like it will relieve pain faster than crying out to God.
As CS Lewis famously put it, we are far too easily pleased.
Since God has placed in us a desire for pleasure, He also promises to be the source of it.  God is not surprised or annoyed that we want to be happy. He doesn't want us to stifle it.  He wants us to seek it in Him.
So, how do we do that?  I'd like to suggest three ways.
1. Being in God's presence through prayer.
"You make known to me the path of life;
in your presence there is fullness of joy;
at your right hand are pleasures forevermore." (Psalm 16:11)
2. Reading His word.
"These things I have spoken to you, that my joy may be in you, and that your joy may be full." (John 15:11)
3. Worship
"The secret of joy in corporate worship is not only self-forgetfulness…but also the happy awareness that we are not alone in having our souls satisfied in him." –David Mathis
God has given us these means of grace for His glory and for our joy.  As Maurice Roberts puts it, "Ecstasy and delight are essential to the believer's soul and they promote sanctification. We were not meant to live without spiritual exhilaration, and the Christian who goes for a long time without the experience of heart-warming will soon find himself tempted to have his emotions satisfied from earthly things and not, as he ought, from the Spirit of God."
Joy in Suffering
But what about the times when we aren't satisfied or pleased at all?  What about divorce and singleness and cancer and debt? How are we supposed to "rejoice always" (1 Thess 5:16) in the midst of circumstances that threaten to break us?  I think Carolyn Mahaney is right when she refers to this phenomenon as a mystery. She writes, "Joy does not necessarily displace sorrow; one of the mysteries of the Christian life is that we may experience genuine joy alongside searing pain."
How can this be?  One answer is that suffering drives us closer to God.  David Powlison writes, "When you let life's troubles get to you, it gets you to the only one who can help."
This was certainly the experience of Joni Eareckson Tada.  At just 17 years of age, a diving accident left her a quadriplegic.  How tempting it would be for her to be angry with God for these painful circumstances.  Instead, listen to how she thinks about her pain: "Rather than try to frantically escape the pain, I relearned the timeless lesson of allowing my suffering to push me deeper into the arms of Jesus.  I like to think of my pain as a sheepdog that keeps snapping at my heels to drive me down the road to Calvary, where, otherwise, I would not be naturally inclined to go."
Charles Spurgeon writes about pain as a "blessed hurricane that drives the soul to God and God alone."  Is this your experience? Does your pain throw you into the arms of Jesus?
Choosing Joy is Choosing Jesus
Here's the deal.  The self-help section is a lie.  Since our hearts are deceitful and desperately sick (Jeremiah 17:9), the answer to our problem cannot and will not ever be found within ourselves.  It is found in the One who gave us life.
We cannot change our thinking to achieve joy.  Instead, we must have our thoughts "transformed by the renewing of our minds" (Romans 12:2).
We can't find happiness by getting out of our minds.  We are called to set our minds on the Spirit, for that is "life and peace" (Romans 8:6).
Fulfillment is not found in reprogramming our subconscious.  We need deeper fixing than that. We need to be made an entirely "new creation" (2 Corinthians 5:17)
And best of all, try as we might, we cannot heal ourselves.  "By His wounds you have been healed" (1 Peter 2:24).