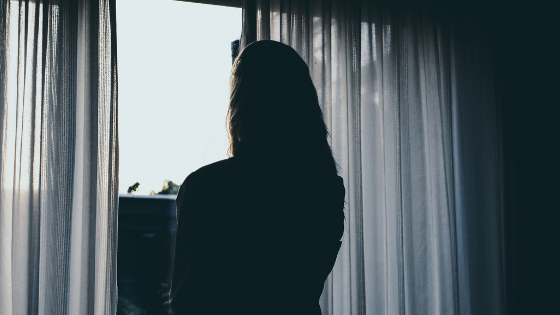 I've always had to find "my spot" anywhere I have lived. At my parents, it's an old recliner looking over the living room. In Cedar Falls, it's a coffee shop filled with college students working on homework, building relationships with each other, and, of course, drinking coffee. On my trips to Guatemala, it's the roof top overlooking Guatemala City in full view of the mountains surrounding me. In Colorado, it's the little city park just blocks from my Grandma's house. And right now in my home, it's sitting on the floor in front of my couch looking out my big picture window which is covered by a white lace curtain flowing with the breeze. Each of these places is a place where I've found another piece of myself, a place where I met with Jesus, a place I pray, a place I read truth, a place I cry, and a place I can be fully me and be known fully by my Father. In these spots I find love, I find joy, I find conviction, I find growth and movement. As I watch out my window, I see the wind blowing the trees, I see cars drive past, birds fly by, life moving forward. And as I think about life moving around me, I ponder the growth and change in my life.
"Go, therefore, and make disciples of all nations, baptizing them in the name of the Father and of the Son and of the Holy Spirit, teaching them to observe everything I have commanded you." Matthew 28:19
 Growing up, I had this underlying belief that I would reach a certain time of my life when I will have arrived. I wouldn't have to learn anymore. Eventually I would get to stay and just be. Maybe this was after I graduated college, got a full-time job, got married and had kids, at which at this point I wouldn't have to work anymore and I could just be a mom. I had it all planned out, right? But this isn't what Jesus commands us to do. Jesus commands us to "go." He commands us to "make." He commands us to "teach" and to "baptize." All of which are verbs. They require movement, action, change, new things, learning, doing. We don't "arrive" in this life; rather we are continuously growing and pushing towards eternity.
We just finished celebrating Christmas, a time with family and friends, eating good food, playing games, and opening presents. The holiday could have been filled with joy and laughter, or maybe it was a time to remember and mourn the loss of a loved one. But often we get so wrapped up in the laughter and tears that we lose sight of the One who we are celebrating. The One who can satisfy. God has begun to show me that there is so much more to this life than the desires, hopes, and dreams that my human flesh wants. And I am reminded that God calls me to go and teach and bring His Good News to those I encounter. But often I don't want to go.
"And remember, I am with you always, to the end of the age." Matthew 28:20
As we begin to move, we must recall Jesus' last command. "Remember." He is always with us. Nothing in my flesh wants to change. I have no desire to move. I don't want to learn more or go through the pains of growing. But all of these "I don't want to's" are wiped away when I remember, I don't go alone, I "go" when Jesus commands, and He is with me always.