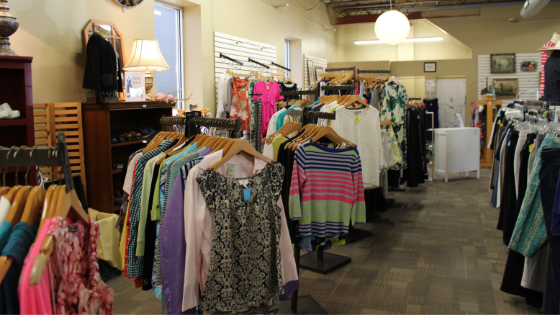 "Long ago I came to the total assurance that God loves me, God knows where I am every second of every day, and God is bigger than any problem life's circumstances can throw at me."
~ Charles Stanley 
My hand gripped the handle of the gray door and part of me hesitated at turning the lock since my gut told me what would greet me on the other side.  It was 8:00 on a Monday morning at Treasures and donations had poured in all day Saturday and the Pollyanna part of me thought maybe, just maybe, the piles had somehow started to evaporate.  I stepped through the door and felt some breath escape my body as the piles had not only not evaporated, but somehow something had made them grow even higher the past two nights. I just stood there with my lunch bag dangling from my shoulder wishing that by some magic I could turn into Mary Poppins and start singing and snapping every random item into place!
Ironically, I had to lead staff prayer that morning, and the topic?  Joy. Joy with our circumstances and joy with where we were that very moment in life.  As I made my way through the obstacle course to my office, my mind led to the other human glitches of my day:  my manager on vacation, bag sale day, short two cashiers, the multiple questions to be answered, and the financial goal I hoped to make that day.  It was then I knew I had a choice to make — My. Choice. For. The. Day.
As I shut out the distractions and asked God to care for me and for this day of ministry, my pastor's message from Sunday came to mind.  He had said that "joy in ministry has to go beyond ministry."  Here I was getting caught up in the stuff and ministry goals and I should have been going to the center — Jesus.
Within the hour, happy chatter of volunteers greeted me as they dug into sorting clothing.  By 10:00, customers were lined up at the door, eager to fill their bags with clothing which God had incredibly gifted us.  And in beautiful fashion, my day unfolded and my God turned my problems into possibilities, and I was blessed. This is our God:
* He sent two extra cashiers to help
* The volunteers were super sweet and literally evaporated all the piles with their hard work
* One customer came in not knowing about our bag sale, was in a very difficult situation with some kiddos, and left with four full bags to clothe them
* God gave wisdom to answer all the questions
* We exceeded our financial goal for the day
By 6:00 that evening, in the quiet of my office, I leaned back in my chair feeling completely and wonderfully cocooned by my Maker.  He had cared for me. He had loved me. He had heard me. I was His child. What if my choice at 8:00 that morning had been different?  What if I had chosen self instead of Jesus? I would have missed out on God showing off to me. On seeing Him work. On experiencing the truth of my pastor's words that I serve a big God whose "love will not leave me where I am  — it will continue to refine me . . . . "