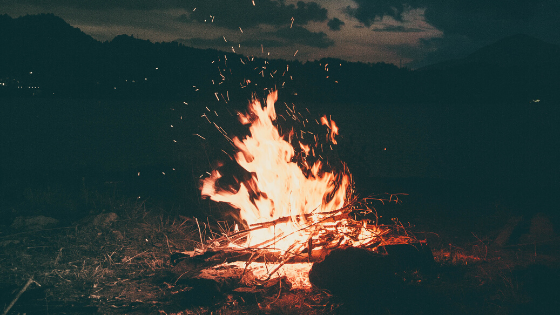 These last few weeks have made me realize how tightly I hold onto things. I've never thought of myself as particularly tied to the things of this world, but my work at Bridgehaven and how we thought this year would go changed overnight. I couldn't celebrate my parents' retirement last week like my family had planned. The trip my husband and I have been planning to Alaska, to finally show him where I was born and spent the first few years of my life, is now uncertain. And if I'm honest, I haven't really been able to let it all go.
I know for many of you the things you've had to let go of have been far more devastating. Maybe you were supposed to get married. Maybe you've been let go from work. Maybe you're a small business owner who's had to close shop and aren't sure if you'll ever reopen. Maybe you're not able to visit your loved one who is dying. Maybe you're on the front lines in our healthcare system and you're not able to go home and hug your children.
For me, the question I've found myself facing is this: Is Jesus really enough?
There's a story from the Old Testament that's been popping up in my life a lot over the last few months. In Daniel 3, three exiled Jews named Shadrach, Meshach, and Abednego find themselves in a situation where they have to choose between death by a fiery furnace or worshiping another god. And when King Nebuchadnezzar asked them why they wouldn't obey his command, this is what they said:
"O Nebuchadnezzar, we have no need to answer you in this matter. If this be so, our God whom we serve is able to deliver us from the burning fiery furnace, and he will deliver us out of your hand, O king. But if not, be it known to you, O king, that we will not serve your gods or worship the golden image that you have set up." Daniel 3:16-18
If you know the story, you know that this reply made Nebuchadnezzar so angry that he ordered the furnace to be made so hot that the men who threw Shadrach, Meshach, and Abednego were burned alive. But when they were thrown in, there was another in the fire walking around with them – many theologians believe it was Jesus himself. And when the three of them came out, they didn't even smell of fire.
Absolutely amazing, right? But here's the thing – they didn't know God was going to deliver them. They knew he could. But they were so devoted to him that it didn't matter if he did or not. They were going to worship him and him alone no matter what.
If you happened to watch the homily Haley referenced in her blog last week, Father Mike actually preached on the story of Shadrach, Meshach, and Abednego. As he tied it in with the Easter story, he said something that stopped me in my tracks: "Because Jesus loves you, you can ask him for anything. And because Jesus loves you, you can accept anything he gives you."
That means yes, we can ask him for deliverance from whatever situation we're in. He wants to give us good things (Matthew 7:11). But even if we aren't delivered from the fire, we can trust Jesus because he loves us so much and knows what we need.
This is the holiest week for the church. This week we remember and celebrate Jesus laying down his life for us and rising from the dead so we can spend eternity with him. There is no other event in history that shows us just how much God loves us. Jesus was mocked and beaten by those who he was trying to save. He took on our sin and was separated from God the Father – all so he could be with us, even in the fire.
I want to leave you with a song that, for lack of a better term, has been my anthem over the last few months. And as you listen, I encourage you to ask yourself – I encourage me to ask myself – even if you lose everything this season, even if you aren't delivered from the fire, will you still worship him? Is Jesus really enough?
"Indeed, I count everything as loss because of the surpassing worth of knowing Christ Jesus my Lord. For his sake I have suffered the loss of all things and count them as rubbish, in order that I may gain Christ." Philippians 3:8