"…Let the beauty we love be what we do."

excerpt from "A Great Wagon" by Rumi
In my neighborhood, I have been delighted by painted rocks that are strategically placed along the tree line of the sidewalk with messages of encouragement, or pictures, or sometimes a scripture message. They brighten my walk and bless me when I least expect it. Now, I find myself looking for these little treasures in the crevasses of gnarled tree roots and knot holes or in flower beds every step along the way. I absolutely love that someone has found a simple way to share the joy of their faith without expectation, not even knowing if or when or who will see them.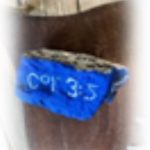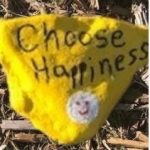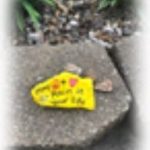 I began to ponder how I could acknowledge these anonymous gestures, and remembered the wide-eyed wonder I saw in my little granddaughter's eyes when she discovered a tiny fairy door tucked behind some tall grass at the base of a tree in her Madison, WI neighborhood.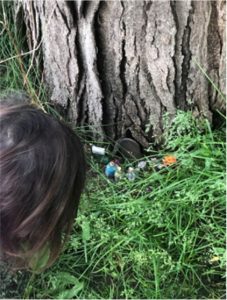 As we peered closer we spied an itsy-bitsy mail box next to the two-inch door, three miniature vials of glitter (AKA fairy dust), and a flower petal.  
The idea that an unmet neighbor would take the time to create something so innocent and dreamy in the midst of an environment full of such anger and discord and violence and Covid, well… it was just so thoughtful. A kind gesture for the simple purpose of bringing joy to an unknown child curious enough to look beyond.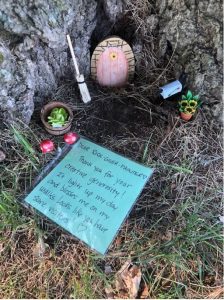 So, I went on a hunt to find miniature things that I could leave in the vicinity of the rock-words. I found one of the rock-giver spots and did my secret deed! 
I was excited enough about my plan to mention it to my prayer partner who resides in southern Indiana. To my surprise a few days later, a box arrived from Vernon, IN. Inside were three carefully crafted Lilliputian doors and a diminutive footbridge made intricately of wood bark, stones, decorative thumbtacks, fabric scraps and dried flowers; and a wee stringed instrument made with the top of an acorn, a twig and some thread! But the best part was in the handwritten note which said, "God can make the most of the quiet gestures!"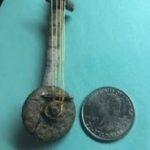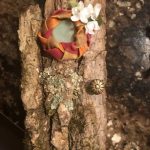 Everything is so BIG these days. Big voices, big opinions, big clashes, big ideas, big decisions and elections and pandemics. Giant shifts in workplace and community guidelines. Huge debates over school start-ups, masks, and conspiracies. How refreshing to ponder these small things, quiet things. 
I have found such delight in this quiet ministry of blessing those anonymous rock-painter givers.  Since the time I placed the miniature doors and brooms, and created walkways with buttons, there is evidence that others are joining in. It is like an unspoken language of joy. We may never meet, but our hearts have. Let everything that has breath praise the Lord! Even the rocks will cry out! If you delight yourself in the Lord thy God, he will give you the desires of your heart.  These are the scriptures that are resonating in my spirit.   In some small way, through a hidden door, in the weeds, along the way, quiet gestures of faith are being shared in BIG ways….  
The noise is real. The noise is loud. The noise is REAL LOUD. If we are too distracted by the current chaos, we will miss the opportunity to find and share the quiet joy of our confidence in Christ. 
The Bible is so clear about how we are to conduct ourselves ("…in a manner worthy of the gospel of Christ…" Philippians 1:27), what our thoughts are to dwell on ("…fix your thoughts on these things..." Philippians 4:8), how to view conflict ("…be kind and compassionate to one another…"Ephesians 4:31-32), how we are to consider trials of every kind ("…count it all joy…"James 1:2-4), Who holds the future in His hands ("…for I know the plans…" Jeremiah 29:11).
"It is the same with My word. I send it out, and it always produces fruit. It will accomplish all I want it to, and it will prosper everywhere I send it."  Isaiah 55:11