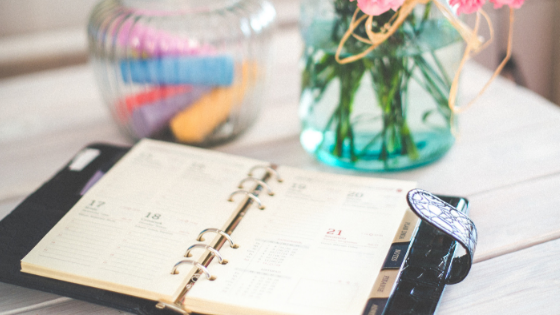 Do you love new things? Do you like change? If you answered yes, we can't be friends unless you are talking about new planners or new jeans. Not shopping for jeans, just the actual having of a great-fitting pair of jeans.
Anyway, new things are scary and can feel overwhelming. Last week, I had so much new I felt like my head would explode. We decided to shake things up at Bridgehaven in a very literal way, and we turned our annual fall run/walk into a dance event. It was a bold move and we really had no idea what we were doing. That was scary…..especially for a woman who lives for her planner. In my personal life, my son had decided to ask a sweet girl to Homecoming and it would be his first date. Also super scary. And kind of bittersweet and all the things that you see in a Hallmark movie……My week was filled with angst and anxiety with a very small slice of sweet anticipation. We are talking really, really small slice because mostly I was terrified of both events.
It was like God was laughing last year when the Development committee decided to go a different route and have a brand new event with an activity I knew nothing about. This girl likes to have a timeline and have things done well in advance. The board was supportive, the staff was excited, and I had no idea what would make this thing a success. Times like that require you to lean on God. I spent time begging, I mean praying, A LOT. It also required that we rely on new people and get fresh ideas. That part was fun, and we got to work with the super cool Mark and Joanna who really made the dance fun. Other than that, it was frightening. People weren't registering or raising funds like they had done in the past with our walk. Our team was worried but carried on with the planning. I was not looking forward to Saturday at all. I wanted to succeed and this was feeling like anything but success.
Leaving work, I would go home and talk with my son about opening doors and how to treat a young lady. What had happened to my ultra-organized, sane world? We were shopping at Von Maur for pants and ties and shoes that weren't Birkenstocks. There was talk of photo ops, dinner in Coralville, and after-parties. I wanted someone to stop the world because I wanted off. I wanted to go back to the time when girls were icky and my son refused to attend middle school dances. Those times were safer and easier and I knew what to expect. But that's the thing with kids…..they keep growing (physically and emotionally) whether we want them to or not. This situation also found me talking with God more than usual because I was at a loss. My baby is growing up and that is hard.
And just like a Hallmark movie, both events ended happily. Did we meet our fundraising goal for our event? Not even close. But did I watch some happy kiddos dancing the day away and laughing with their parents? I did. Did we have some donors who had been away from the ministry for years attend the event and make a donation? We did. Did a simple dance bring everyone out on the dance floor together where they shared smiles and good times? It did. God showed up in ways I couldn't have dreamed of. We had a youth group raise some money for their organization by selling delicious walking tacos, and we had businesses in the community provide great door prizes for our guests. The day was more than I could have imagined, and the lack of fundraising led me to a super cool idea I can't wait to share with people next month. It will be so good for our families and those who want to support life and family in our community. God knew what He was doing.
God also had Kinnick. I shouldn't have even worried about it. He looked nice and remembered his manners. The kids he went with had a great time and will have memories for a lifetime. They will for sure have photographic evidence of the evening because it was like the paparazzi was there. We got to spend time together as a family, and I wouldn't trade those moments for the world. My son took his first step into the world of relationships, and I have never seen him happier. I mean, maybe when he hit his first homerun but other than that, probably not. He shared laughs with his buddies and led some of the bad dancing in the high school commons. God knew what He was doing.
That's the thing…..God always knows. "For I know the plans I have for you," declares the Lord, "plans to prosper you and not to harm you, plans to give you hope and a future." (Jer. 29:11) It is such a good verse….maybe it is the best verse in the whole Bible. But for me, it is the hardest to remember, the hardest to live by. New things happen to us because God has it planned. Different things are all part of prospering us and not harming us. Sometimes it feels like anything but good times. Often times, it feels crappy and painful. But all of that leads to the good He has for us. So, once in awhile, even this girl has to let go of the planner…..let go of the familiar and the known. God has this.