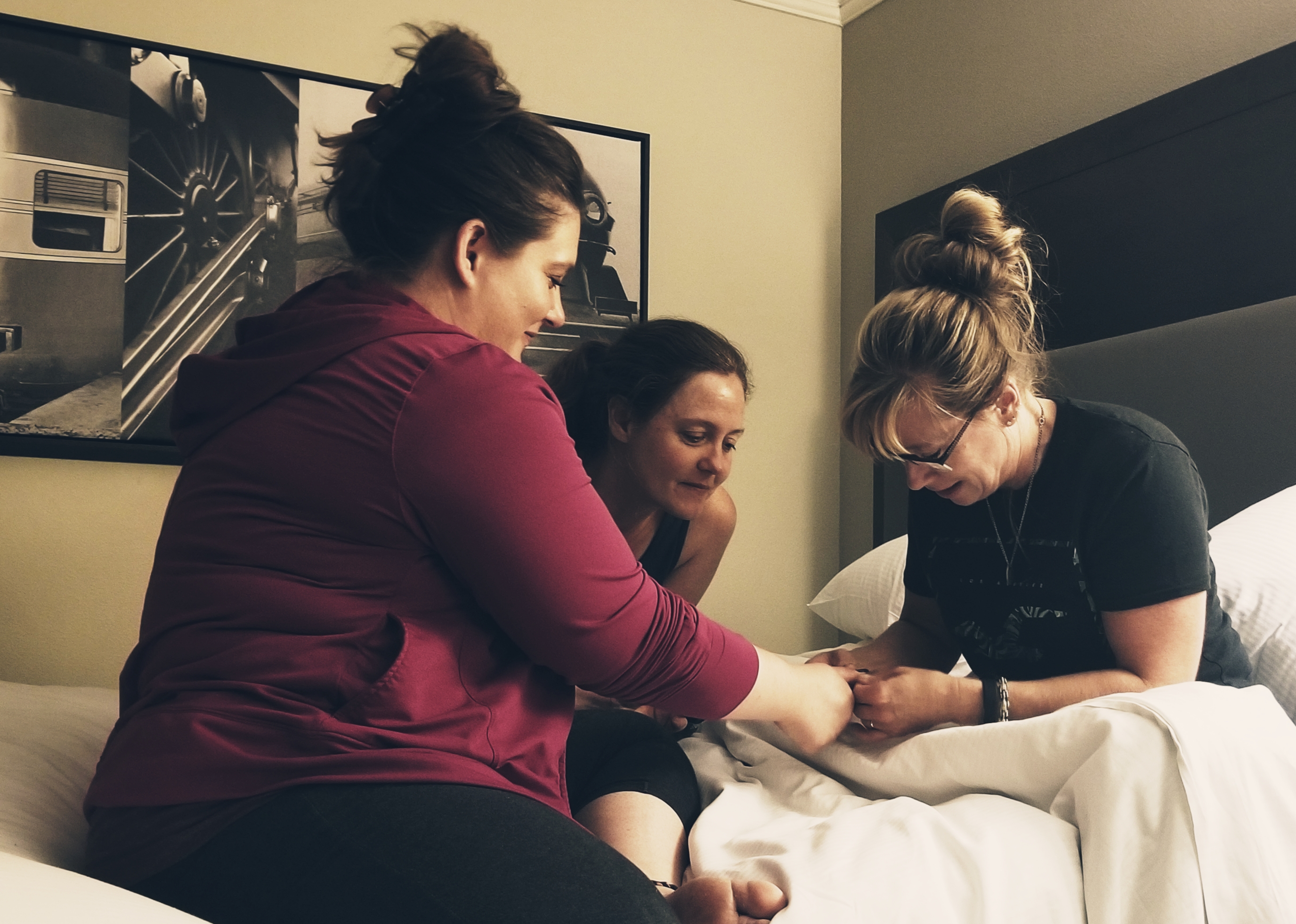 One may take a look at this picture and glance over it. What do you see? On its surface, it's a picture of three of my staff members one evening after a long day of learning at Care Net's annual conference. They're just hanging out in a hotel room, doing each other's nails. A simple and common moment, right? To me however, this is a picture I cherish. It's a moment that evokes a memory, bringing warmth to my heart and a smile to my face.
I remember capturing this picture thinking, "We don't get to have many moments like this one." Our days are filled with ministering to others, solving problems, offering compassion, hope, and help to all who enter through our doors. We run in a million different directions all at one. All those who serve on the staff at Bridgehaven have a unique calling and gifting. We are a tight team, who deeply care for one another. However, over the last few months God has taken us deeper to a place where care, compassion, and vulnerability are becoming more common among our sisterhood than ever. And this picture, albeit simple and girly, is a testament to the sisterhood God is building among this team.
In this picture, taken in our hotel room, you have three very different women. Tree, our Nurse Manager and longtime labor and delivery nurse, is showing us how to use these new nail polish stickers. She is giving strong and firm direction to the fiery redhead looking on. "Be sure you're watching, because I'm going have you do the next one." Arlene (the fiery redhead in the middle), now in her new role as Operations Director, is a self-proclaimed non-girly girl (sorry that's probably not a thing, but you know what I mean). She is intrigued and doubtful that she will be able to do these on her own. But with a little training, coaching, and shadowing she WILL have the confidence to go it alone. And Dawn, our Client Support Director, full of spirit and life, sits giggling and asking all kinds of questions. This moment was menagerie of personalities getting the job done but having a wonderful, whimsical time doing it! Yes, these ladies are different, but they are a beautiful reflection of the heart of Christ.
"How good and pleasant it is when God's people live together in unity." Psalm 133:1
Leaders are constantly learning how to build a cooperative and cohesive team. I've been leading teams for almost 20 years and the best advice I can share is to watch, listen, and let go! If you have the right people, trust them and love them. Truly ask God to grow a heart of love for each of them. Love them uniquely and share with them how much you love them. As you have guessed, I was the one taking the picture, and I am so blessed to have this view. These moments are so close to my heart, and the generous simplicity makes me emotional. I am grateful beyond measure to be in ministry not just with these three women, but with the other 13 staff members at Bridgehaven.
Church, I urge you embrace one another. To love beyond what we can see and to let go of the strings attached to your love. Love without expectation or fear of being hurt. In our ministry, we are reminded every day of how short life is. In 1 Peter 4:8, Peter urges us to "love one another deeply…" Deeply? What does that mean? How do I know that I have loved deeply? Well, I believe you know you have loved deeply when your acts of love change your heart in radical ways. Then you know it's God. Because if we love so deep that we are changed, then we know that the power at work within us is so much stronger than any of us could ever imagine.
"Above all, love one another deeply, because love covers a multitude of sins" 1 Peter 4:8
Lord, I thank you for how you have changed my heart. You have grown my ability to love people in truly hard and painful circumstances. You have taught me that Your love is truly all I need, and therefore I am free to love others in the way You would ask of me. Continue Your work in me. Continue to show me the fruit of Your love through those around me. Thank You for instilling in me a love for the simple moments and a contentment to watch, listen, and let go. Please bless this amazing team You've built at Bridgehaven. Bless their families and their journeys as they serve to glorify Your name each and every day!