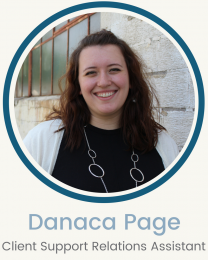 Danaca has been with Bridgehaven since: April 2018
Life at home: I live in Cedar Rapids with my baby – my 8 month old Black Lab, Adeline (Addy) Rose. She's super sweet, loves to cuddle, play fetch, and run in the creek.
To me, Cedar Rapids is: Everything summer! Farmers Market, NewBo, Concerts at the Amphitheater, Freedom Festival, friends, family and of course, The City of 5 Smells (or is it Seasons…)
Why I'm passionate about what I do: I love people. I love talking to people. I love listening to people. I love encouraging people. I love talking about Jesus with people. And that is exactly what I get to do at Bridgehaven!
LOCATION
Bridgehaven Pregnancy Support Center
701 Center Point Road NE
Cedar Rapids, IA 52402
GET DIRECTIONS
HOURS
MON | THURS: 10AM - 7PM
TUES | WED | FRI: 10AM - 5PM
SAT | SUN: Closed
Bridgehaven is a 501(c)(3) nonprofit organization.
EIN 42-1203675
SHOP & SUPPORT
Treasures Quality Resale Shoppe serves as a revenue stream for Bridgehaven.