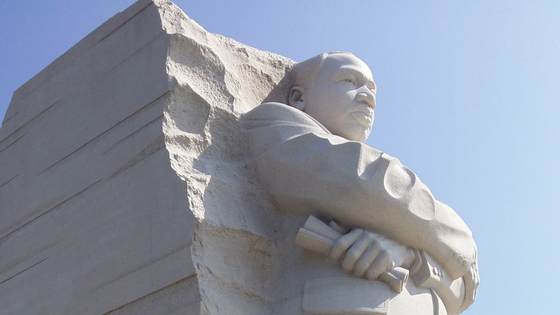 I consider myself a glass-half-full kind of gal. But I will tell ya', there are things of this world that really get me down or bring me to a dark place of discouragement and hopelessness. As I write this, I am attending the MLK50 Conference streaming live from Memphis, TN. The event is not only a commemoration of the 50th anniversary of Dr. Martin Luther King Jr.'s death but a call to action for the church. That racial unity is a Gospel issue and is all the more urgent for us to act upon today.
It could be easy to feel discouraged by what I've heard over the last day or so. It could be easy to look at this and on the surface see that at Bridgehaven we're doing okay. It could be easy to say this is not part of our focus or our issue, and we need to stay focused. Yes, that would be easy, but untrue. The truth is, that I feel this deep discouragement because I know, in my heart, that we are not there yet. That at Bridgeheaven, God is calling us to understand and unify in a way that is different than we do today.
But, I chose to push back on my feelings of discouragement with hope.
I believe God is calling us, Bridgehaven, to look honestly at this issue within our ministry. We serve people from many nations, ethnic backgrounds, and cultures. We love and embrace all people that God sends our way, but I have been challenged recently to really think and pray about this from outside my own perspective. To seek counsel and wisdom from others that don't look like me, act like me, or think like me. I have found, unsurprisingly, that we have some room to grow. Praise God!
"In his name the nations will put their hope." Matthew 12:21
I don't have the answers as to how God will help us. I just know that he will. My hope is in knowing that God desires unity of his people. He desires all his people, not just the ones that look like us and think like us, to work with one another in unity and harmony. My hope is in knowing that God has a great work in me to be done, a learning of something new. Something better to embrace and to see Him through a lens I've yet to look through.
One of Dr. King's quotes deeply resonates with me and the mission of Bridgehaven: "Hatred paralyzes life; love releases it. Hatred confuses life; love harmonizes it. Hatred darkens life; love illuminates it." If we, as an organization that is life-affirming, do not learn from the mistakes of the past and affirm, embrace, evolve and work alongside all of God-created human life, then we are blinded. So I state a commitment to my brothers and sisters of all races and ethnicities – I can do better. We can do better and we will.
Almighty Father of Nations, heal us. Bring us together through the bonds of hope and peace. Help us to learn from one another and soften our hearts toward the things that hold us back from one another. I pray for Bridgehaven, the staff, volunteers, and clients, may you continue your mighty life affirming work in us and through us to benefit all people. In your name…Amen.