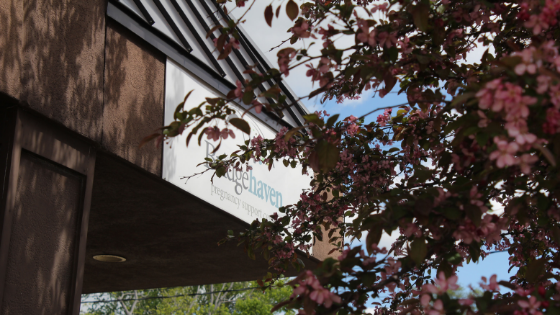 It's not goodbye; it is see you later. My sister taught me that. Her husband serves in the Air Force so they move frequently and it is hard. To make it easier, they never say goodbye. See you later is much more casual, and the implication is there is a plan to meet up in the near future.
With that, I say…."See you later, Bridgehaven."
It is unexpected, I know, but isn't that what God does best? He laughs at our plans and shows us a completely different life than the one we had made plans for. I am sad to be leaving but also very excited about where He is calling me to be. June 12 will be my last day as Development Director at Bridgehaven, and I know it will be a bittersweet day.
Almost three years ago, I walked through these doors knowing nothing about pregnancy centers or abortion recovery or what it means to work in a ministry. I will leave knowing ins and outs of what it takes to run a wonderful organization like Bridgehaven, a passion for Take Courage retreats, and the sweetest gift of working with women (and Dale) who allow the Spirit to lead their decisions and do hard work all for the glory of God.
Chelsey and the board took a chance when they hired me because I had never been a frontline fundraiser, and the plans they had for expanding the ministry required an aggressive budget increase. My background in alumni relations and advancement services from Coe College along with super supportive former colleagues made the transition easier, but we did not reach our goal during the first full year under my leadership. It was disheartening. I questioned if I should be in this role, and I wondered if I, along with the board, had made a huge mistake.
But it is hard to keep a girl with a planner and a semi-unhealthy need to reach goals down for long. 😉 The development committee both challenged and encouraged me to take some risks and do some things that hadn't been done in Bridgehaven's history. It is fitting that the gala theme for that year was "Be strong & courageous"…..and God is so good! And I think He is funny and enjoys fun. The team worked so hard and came together in ways they hadn't before and with all of that work, the generous hearts of people who support our mission, and the providence of God, we were able to exceed our goal by a huge number. I am proud of that. Proud of the team and the staff at Bridgehaven. Proud of the volunteers who show up here and give of themselves. Proud of the donors who join us on our mission. And proud to have a God who is faithful and shows that to us time and time again. But most of all, I am humbled.
I am humbled to have been part of this ministry.
I am humbled by Haley, who greets every client who walks in with the most gentle spirit and makes every single person feel heard and supported, especially those who have no one.
I am humbled by Rachel, who never (ok, one time in over a year) gets flustered, has a real heart for what happens at Bridgehaven, and also manages to keep me on task.
I am humbled by Beth, who is and always will be the voice of reason and of sense and of practicality and whose quiet strength was such a support to me.
I am humbled by Dawn, who has a heart for transformation, prays with such wisdom but listens to such long songs.
I am humbled by Arlene, whose gift for hospitality provides comfort to clients in person or even through the phone.
I am humbled by Julie, who radiates joy and love and a positive spirit like no one I have ever met.
I am humbled by Christine, who has such a calm practicality and whose growth in the last three years has been so cool to witness.
I am humbled by Leanne, who has the gift to make volunteers feel valued and also spoils people with food.
I am humbled by Trisha, whose gift of teaching and asking hard questions has reminded me there is always more to learn.
I am humbled by Tree, whose awe of life even after being a labor and delivery nurse for such a long time reminds me what a gift a new life is. 
I am humbled by Ashley, because her passion for order and organization makes me look chaotic and because the girl always finds good deals.
I am humbled by Dale, who says he doesn't work for a woman, he works for a Carpenter and means it.
I am humbled by Molly, whose heart for people and mission are greater than any selfish thoughts she has and inspires me to be better.
I am humbled by Danaca, who has a love for the Lord that encourages me every time she leads prayer.
I am humbled by a board that is not about being on a board but is about changing lives and making our world better.
And I am humbled by Chelsey, who not only wants to follow where God is calling but also to bring people with her and who will work tirelessly to do so, and makes me want to be a better leader. 
Lastly, I am humbled by Bridgehaven donors. In talking with you over the last three years, you have both encouraged me and shocked me and helped me understand a little more about what it means to give.
The awesome news is that my leaving Bridgehaven really doesn't mean much. God will still be there every day. The staff will be working to transform the lives of our clients in a million different little ways. The volunteers will still be sorting clothes and mentoring clients. And the donors who are dedicated to the mission will still be writing checks and getting excited about the programs that launched this year, along with being super excited to see what God is going to do through all of that.
Bridgehaven's mission of empowering choices for life through Christ-centered education and support won't change. But I did.
My life has changed because of this wonderful organization. I have seen God show up in ways I never imagined. I have met with donors who have hearts bigger than anything I could have dreamed up. I have watched clients bring life into this world despite walking through our doors with abortions scheduled.
Bridgehaven is changing the world. Our story might not be a movie and might not get reported on the major news networks, but little by little, one life by one life, family by family, Bridgehaven is making this world a better place.  So this isn't goodbye…..this is see you later, Bridgehaven.
(P.S.  Leanne, please process my volunteer application so I can actually come back soon.)