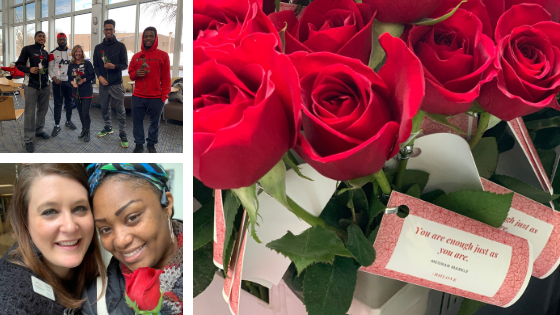 Therefore, as God's chosen people, holy and dearly loved, clothe yourselves with compassion, kindness, humility, gentleness and patience.    –Col.3:12
Kindness is a word that is overused. We are familiar with a random act of kindness and that has somewhat been reduced to paying for the car behind us in the drive-thru line. If we listen to country music, Tim McGraw tells us to always be humble and kind. If we have a Pinterest account, we are instructed to throw kindness around like confetti. All of these are seemingly good things but what does it really mean to be clothed in kindness as the scripture suggests?
Last week, our staff headed out to the college campuses in town, Coe College, Mt. Mercy University and Kirkwood Community College.  We were armed with 650 multi-colored roses tagged with encouraging messages, and our plan was to hand them out to unsuspecting students, staff, and faculty members to spread a little kindness on Valentine's Day. This was our second year of blitzing the campuses with love, so I knew something seemingly small could be very powerful. Despite knowing this, the experience really opened my eyes to how foreign the idea of kindness is to people. The most common response was confusion……me? This couldn't be for me. How much does it cost? People had no idea to react to someone simply offering them a single rose with an inspiring message card with no strings attached. To watch their faces go from confusion to huge smiles is the coolest thing. And many would comment about how this made their day. Think about that….taking less than an hour of our time with a small investment into flowers changed the day for hundreds of people in Cedar Rapids.
The strange part is I don't think we even have to spend money to show kindness. Have you ever taken a moment to compliment a stranger? It is the exact same reaction as handing flowers to those students. They are usually confused about why you are talking to them because surely they don't know you. And then they are shocked you took the time to say something nice. Finally, they smile because they feel blessed by whatever you took the time to say. Now, I am not suggesting you spend your day looking for strangers to compliment, but isn't it fun to think something so tiny, so easy can make a real difference?
My challenge to you for the next few days is to find a small act of kindness hidden in each day. Do one kind thing you wouldn't normally do, and watch the faces of those who receive your gift. And pay attention to how your heart feels in the unfolding of these events. I will even get you started with a list of possibilities, but please allow your imagination to take you wherever it will. Lastly, let's report back on this post about what acts of kindness we were able to accomplish. It will be a fun way to see how little acts can change communities!
Email your child's favorite former teacher. Just send them a few lines about what an impact they had on your kiddo and say thanks.
Call your mom. Or your dad. Or your brother or sister. So often we text or email so hearing your voice can be a real treat.
Buy donuts for your workplace. People love sugar.
Let a manager know when you have had great customer service. They usually only hear the bad, so share something good with them.
Write a letter. The mail is usually bills and advertisements. Handwritten mail is the best!
I'll let you in on a little secret about kindness…..it actually feels better to give it than to receive it. I know, I know…..that is something a mom would say about Christmas presents, but this time, it is true. After handing out all those roses, I felt so good all day remembering the faces and expressions of thanks. Showing kindness is actually a gift to ourselves. The Scriptures write it as a command, but it is one of the best……it is easy to do. It doesn't take much time at all and it feels so good. So go out there, clothe yourself in kindness, and then report back. We can't wait to see how much kindness we can spread.