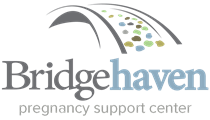 Thank you for contacting us. Someone will be in touch with you shortly.
If you need to speak to someone now, press the button below.
4250 Glass Road NE, Suite 100
Cedar Rapids, IA 52402
Our services are provided to clients without regard to age, race, income, nationality, religious affiliation, disability, or other arbitrary circumstances. In keeping with our non-profit, pro-woman mission, Bridgehaven Pregnancy Support Center does not provide or refer for abortion services.
Copyright © 2020 All Rights Reserved