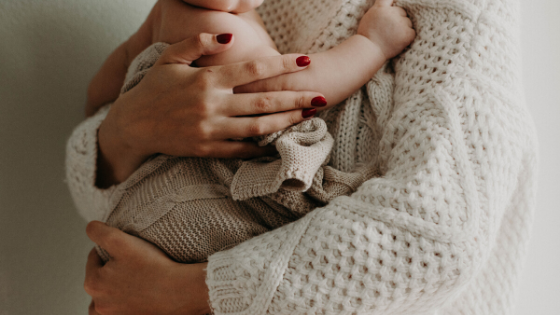 I cannot even begin to tell you how in awe I am of mothers. Now, dads, don't get me wrong – there are TONS of you who I am in awe of too, but as we approach Mother's Day, I want to shine the spotlight on the mamas out there.
As many of you know, I have the honor and privilege of getting to walk with mothers daily with the role I have here at Bridgehaven. I have always had a passion for listening to, supporting, and loving on moms, and I really do feel God has given me this heart and compassion for them as part of my lifelong calling.
Even though at this time in my life I do not have children of my own, boy oh boy do I have some incredible role models I get to witness and learn from on a daily basis who show me a mother's love and the unique gift she has on the journey of motherhood. I wanted to share a few of the recent examples I have been incredibly inspired by regarding the gift of mothers.
I have recently been inspired by…
…the ways my mama ALWAYS has taken the time to listen, encourage, and love others throughout my entire life. I've recently witnessed her having conversations and asking important questions such as, "How can I help?" and "How can I best support you right now?" She has always been someone who serves others wholeheartedly, believes in and encourages people, and takes the time to remind people they matter. And these are just a few of the ways she shows my brother and I love and care as a mother.
…having the honor of watching a God-ordained relationship and connection unfold as two mothers walk an incredibly heartbreaking but life-honoring journey. They are able to share in each other's deep emotions for their children who only had a brief period here on earth but will always be a unique and incredible part of their hearts forever.
…getting to witness the joy of one of my closest friends sharing a book with her son on his 16th birthday created for him on his first birthday, filled with hopes, wishes, and dreams for him. I have gotten to witness from this mama how the love for her son is unshakable, undeniable, and unconditional, and I hope I can love others with a genuineness like that.
…seeing the power of perseverance through a mentoring relationship between two mothers. One of the moms has been battling an addiction for the past couple years but has been desperately desiring to try and combat that addiction. The other mom has told her, "I am with you, I will not give up on you, and I am here for you through all of this to continue encouraging and listening to you when you need someone to lean on."
…experiencing the joy alongside my close friend who has become a newly pregnant mama and listening as she shares the exciting details of listening to her baby's heartbeat for the first time, purchasing fun new items for when baby arrives, and sharing the wonders and dreams she has for that little one growing inside of her.
Lord, I thank You for the gift of motherhood. I praise You for giving mothers a unique strength, bond, and heart for their children. God, I ask You to bless all mothers who have children here on earth, and in Heaven. Remind them of their value and lead them on the path You have uniquely created for them as a mother. Thank You Lord for all the ways You will continue to care for and equip all mothers. It is in Your precious name we pray. Amen.