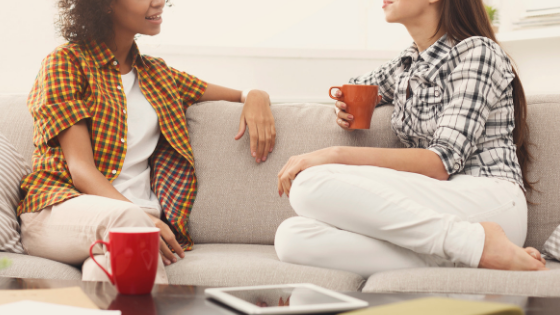 You know that feeling? When you are sitting across from someone (a family member, close friend, even someone you met recently) having a conversation together, and you are overcome with a sense of belonging, a sense of purpose because you are reminded that you matter, and a sense of being completely and utterly present in those moments with each other. This kind of bond created comes from intentionality. And trust me, intentionality does not go unnoticed.
I was reading a devotional recently from IF:Equip and it shared this description: "Intentionality requires dedicated time, vulnerability, honesty, listening, and leading with love and care for the person."  I know that can feel like a very big task to some of us. Or some of us might have a desire to be intentional with others, but we just feel we are too busy and don't have the time to put into it. Or some of us might even feel we don't really want to make the time to be fully intentional with others because it feels like a scary and uncomfortable place to be because we know it requires us to open up ourselves to others.
I understand some of these fears can surface for each of us when we think of this description of intentionality. But when I think of what a difference and impact it has made on my life when people have taken the time to be intentional with me, how could I imagine not doing that for someone else? Like all of us on this journey, I have been in some very dark pits, and I have been on top of the mountain overjoyed. Each step along these highs and the lows, I have experienced the gift of intentionality through some of the most amazing people I will ever know.
When was the last time you recognized the gift of intentionality? What did that look like? What did that feel like? How can you extend this gift of intentionality to others in your life? Where do you feel God is leading you to use this gift?
Heavenly Father, I pray we open our eyes and hearts to the gift of intentionality. May we recognize, feel, and experience this gift in an even deeper way than we ever have before. We ask that You instill a bravery in us to not allow fear to get in the way of this gift. Lord, help us to notice the moments when You are calling us to be intentional, and may others be open to receiving it. In Christ's name, Amen.