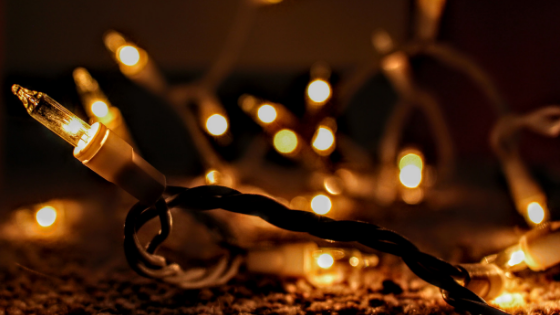 To be honest, I haven't felt very jolly this month. My heart has been broken a lot.  As I drive to various community organizations to lead groups and educate women, I pass by colorful Christmas lights and smiling yard inflatables of Rudolph, and the holiday cheer never seems to match what I experience when I get to my destinations.  
There is a 14-year-old girl whose dad will spend the next 20 Christmases in prison. There's a girl who suffers from the chronic compulsion to self-harm, who says this time of year makes her feel abandoned, unloved, and forgotten. There is a pregnant teenager whose boyfriend keeps cheating.  She can't find the courage to leave him. There are women in correctional facilities who will not be able to spend Christmas with their children. There are teenagers crippled by drug addiction and mothers crippled by the shame of losing custody of their kids. There is a woman detoxing from meth who is suffering from acute liver failure due to a Hepatitis C infection.  
Merry Christmas, right?  
"To love at all is to be vulnerable. Love anything and your heart will be wrung and possibly broken. If you want to make sure of keeping it intact you must give it to no one, not even an animal. Wrap it carefully round with hobbies and little luxuries; avoid all entanglements. Lock it up safe in the casket or coffin of your selfishness. But in that casket, safe, dark, motionless, airless, it will change. It will not be broken; it will become unbreakable, impenetrable, irredeemable. To love is to be vulnerable."  -C.S. Lewis
It would be so much easier to think of these hurting people as issues to be solved. It would be easier not to care. What a cheap fix, to "keep my heart intact by giving it to no one." But instead, I love them. And because I love them, my heart is broken.
And the more I think about it, the more I'm convinced this broken feeling is appropriate for the Advent season. Through this rhythm of sadness and sin, God is speaking. He is making me crave Jesus. He is helping me feel the world's desperation for Him, just like the very first Christmas. Before Jesus was born, everything felt hopeless. God seemed silent. Everything looked doomed.
And then the Light of the world broke through the darkness. The gravity of sin adds to the joy of rescue.  
O holy night, the stars are brightly shining
It is the night of our dear Savior's birth
Long lay the world in sin and error pining
Till He appeared and the soul felt its worth
I know these women need Jesus. I can't force them to believe the truth. I can't make their souls feel their worth. Only God can do that.
So, what can be done? I won't pretend to know all the answers. All I know is I have to keep loving them. I spent far too many years wrapping my heart in "little luxuries" in order to protect myself from heartbreak. It wasn't worth it. Our God isn't like that. Jesus took on flesh and died and rose again because of love. Looking at the cross makes me brave enough to be vulnerable.   
That's my prayer for you this Christmas: that you find courage to love the hurting people. People in pain aren't always the most fun to be around, but they need you. I pray you love them with reckless abandon, without strings attached, leaving your heart open to the possibility of being broken. I pray you experience the love of God being poured into your heart by His Spirit, and without hesitation, you let it overflow to a hurting and burdened world.