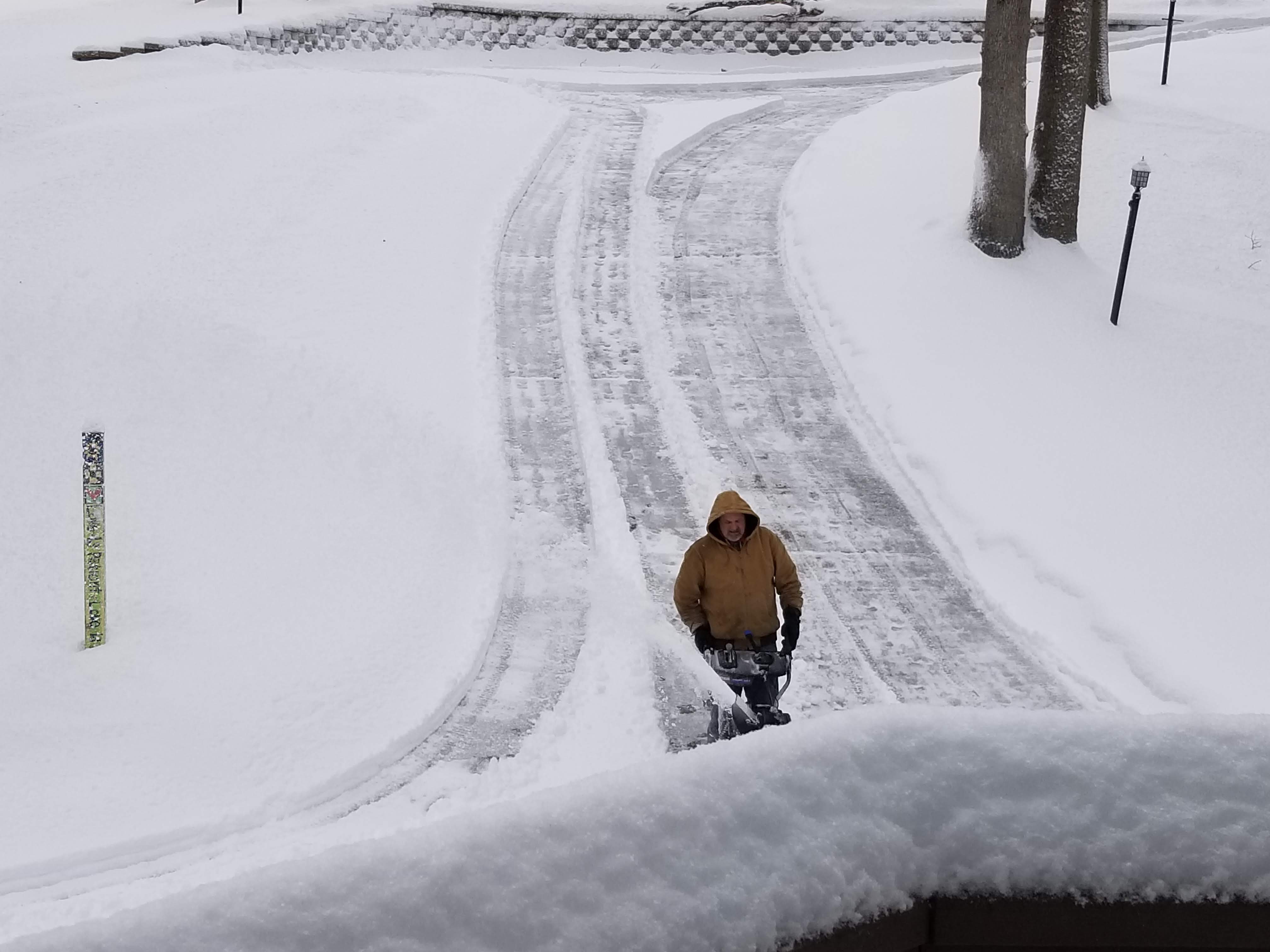 He loves me. He loves me not. He loves me! If a girl tells you she never plucked the petals from a flower with a wish in her heart, while repeating these words- she's lying. There was a time when my heart fluttered at the notion of hope in a little flower and the chance my plucking would end in three little words. I laugh to myself as I consider the foolishness of such things, but foolish or not, the desire still lingered.
Today, on a snowy Iowa winter day, I watch as my husband clears the snow from our steep and long driveway. At first glance, he's just a man doing his thing. But a closer look into this man's heart will tell you a much different story.
With every pass up and down the driveway, I could repeat, "He love me. He loves me not." But I don't have to play games or guess. I know. For many reasons, I just know. Today, I know because of his persevering and excellent service to me and our son. He doesn't just brave the cold and winter elements to get the job done, he does it with care knowing he wants us to be safe, knowing people will want to come visit and talk through hard times in their lives and knowing his work is an act of worship to the Lord.
The love of my husband is reflected in acts of service. For Don, service is love. It's always been a 'love language' for him, and as his love for Jesus has grown, so has his ability to serve the ones he loves and love the ones he serves.
'Husband, love your wives, as Christ loved the church and gave himself up for her,' Ephesians 5:25
Oh how I am inspired by his love, his ability to show up no matter what and love people through action and deed. He'll gently wake me on Saturday mornings with a fresh coffee cup in hand. When a maintenance problem arises at the center, he'll drop everything to check it out and make sure I and the staff is cared for. When a neighbor is in need, he is the first on the scene. When someone needs to move, he's the first to offer his truck and assistance. As the Lord grows his compassion and love for people, so does his desire to serve no matter the cost. I've seen him serve people with love even though they've treated him poorly. He continually shows love through deed to whoever needs it, a neighbor or a stranger stopped on the street.
I suspect many men have a similar love language. As a wife, I challenge myself to be the supporter and encourager in my husband's efforts to show love to the people around him (especially me J). I want him to know each thing he chooses to do matters. It not only matters to the recipient, but to his family. For when he serves others through the Lord's provision and grace, he reflects a great love for first and foremost is Lord and Savior and second, for me, his wife. It's all connected, love doesn't happen in silos. It happens an abundance provided by God our Father.
'So now faith, hope, and love abide, these three; but the greatest of these is love.' 1Corinthians 13:13
Of course Mr. McDill isn't perfect and this harmony in our marriage, thoughts and beliefs in one another are challenged from time to time, but these things do not phase us for long. Christ's perfect love covers us and our insecurities. We run to Him and abide in his steadfast love to refuel and reflect on our impure or burdened hearts. For before my husband can love me or love others, he must accept his Father's love. He must be so full of God's love, his service is the overflow of that fullness.
This is not just true for Don or me, but it's true for you, too. For He loves YOU. Yes, no game, no question about it, He loves you! Those three little words make all the difference in the world.
'For God so loved the world, that he gave his only Son, that whoever believes in him should not perish but have eternal life.' John 3:16
Father, I pray that your love reaches the hearts of many this Valentine's Day. I pray that couples will let their hearts be generous and kind, caring and grace-filled. There's an abundance of desire in this world but a deficit of love, the real love that only You can offer us. Help us to accept it, grow in it and long for it. Oh, and I thank you so much for Mr. McDill, bless him Lord. Amen.