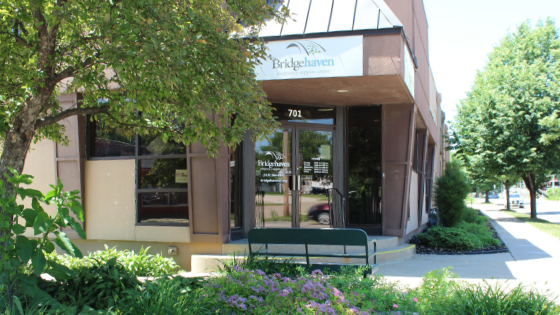 Fear paved my way to Bridgehaven.
I know that sounds weird, but it's true. The first time I walked through these doors, I was just plain scared. I was 17 weeks pregnant and across the country from everything and everyone familiar.  
At first, I came here for a free ultrasound.
I kept coming back for the prenatal program.  
I came back for a layette after my baby was born.
And then, months later, I came back to start my new job as a Prevention Educator. And let me tell you, that was probably the scariest of all.
As I walked through the doors on my first day, this is what I knew:
I would be talking to kids about sexual integrity and avoiding risky choices. Would they even listen to me? I hadn't heeded any of the advice I was about to give them.
Our staff would get together every morning and pray– out loud!— for an HOUR. I was a fairly new believer and the thought of this made my palms sweat.  
I would be working with women who had dedicated themselves to life-affirming ministry. When I found out I was pregnant, I had seriously debated getting an abortion. What would they think of me?
But in I came, carrying all my fears and assumptions and judgments. I had no clue how much God would shape me over the next few years. He's taught me so much more than I can write in this blog. But I'll try to give you a snapshot.
Pretty quickly (like within my first week here) God humbled me by showing me my assumptions about pregnancy centers were completely wrong. I thought my coworkers would be unable to comprehend my pain and my sin. I thought they must have perfect and sheltered lives. Instead, as I heard testimony after testimony, I discovered each employee or volunteer here has a deeply personal and often painful story behind what drew them to this ministry. I am not unique.
During my time here, God used my director, Trisha Sellers, to show me the value of vulnerability. She encouraged me to tell my story with honesty. Because of her guidance, I know now that if I can get through to just one kid in that classroom, one woman in that halfway house, one teen in that treatment center, baring my soul is a risk worth taking.
And the stories. The stories I heard during my time at Bridgehaven I will never forget. Every time I was vulnerable, God met me in my discomfort by placing wounded girls and women in front of me. They told me all about their pain and trauma. He taught me I can't and shouldn't try to solve their problems. He taught me the miracle of shutting up and listening.
Then, of course, there are all the little practical skills I've developed along the way. Like, if you ever need to know statistics about the harmfulness of pornography, I'm your girl. If you find yourself in a situation that requires explanation of the wonders of puberty and the menstrual cycle, I could totally help you out. Oh, and I can recite and categorize the most common STDs and their modes of transmission, like, in my sleep.  
Bridgehaven has been more than just a job. It started as a place to get a free ultrasound, and it became a place to see God at work.  
It is a group of women bold enough to pray the things I'd always been terrified to ask. It is the sisters I never had. It is the place God answered some of my wildest and biggest desires.
He's taking me down a new path now– one of those big and wild desires is being fulfilled. I get the opportunity to be a stay-at-home mom. His faithfulness will follow me, and He will use this new journey to shape me in ways I can't comprehend.
And as I walk through these doors again, only this time in the opposite direction, I will carry the stories of this place in my heart.