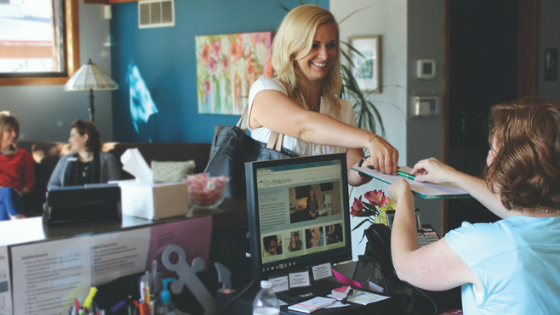 My heart is full of thankfulness today. As the financial assistant at Bridgehaven, part of my job is to process all of the monetary gifts that we receive to support our ministry. As I do this, I encounter many names (maybe yours!) that are very familiar to me, even though I can't begin to put a face or personality with them. These are Bridgehaven's monthly donors. Some of our monthly givers began when they made a pledge to make monthly contributions at a banquet, possibly many years ago. When their pledge was fulfilled, they continued their gift. Others went online and set up a monthly gift completely on their own. Still others faithfully send us a check every month.
Because most of our online monthly gifts process on the 5th of the month, the list I downloaded today contains 73 names.  As I record these gifts in our system, I wonder about the people behind the gift. What age are they? What sorts of jobs might they hold? If they are out-of-town donors, what is their connection to Bridgehaven? Did they once live near here, or did Bridgehaven help someone they know? I'm sure the stories are as varied as the people behind the donation.
Monthly gifts are an important piece of Bridgehaven's operating budget. I like to think of how they provide the ability for us to pay our monthly bills. When we think of monthly bills, one of the first things that comes to mind is utilities. And yes, we do pay utilities every month. But the expense I first think of is payroll. Because Bridgehaven offers services to clients, by far the biggest chunk of our operating budget is paying the wages of our staff. Bridgehaven employs eighteen people, ten full-time and eight part-time.
Payroll may not seem to be a very exciting thing to donate to. In fact, it's one thing that grants we receive virtually never cover. But instead of concentrating on a paycheck, I think of donations that cover payroll as enabling our staff to do what they do best, what God has called them to do. So if you're a monthly donor, here are some things your gift does.
You enable Arlene to make appointments for pregnancy tests and ultrasounds, and cheerfully and lovingly greet clients coming in the door. You make it possible for Dale to fill our van three times a week with donations of food to distribute to clients in our Earn While You Learn program.  Dawn can meet with moms and dads and put them in the class that best fits their needs. Kelli can go to area schools and teach students what sexual integrity looks like. Haley can compassionately listen to a young woman struggling with a decision concerning her unplanned pregnancy. Kylee can apply for a grant to pay for cribs and car seats for clients in our prenatal class. And Chelsey can put together a presentation for the Board of Directors to envision a possible new program for Bridgehaven.
So thank you, monthly donors, from the bottom of my heart. Thank you for letting God use your financial gifts to support the people who do the ministry of Bridgehaven.