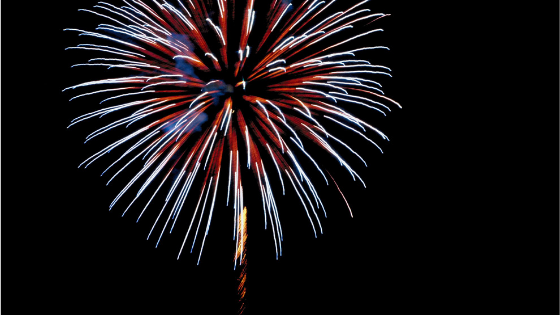 Happy Birthday America!
This day has always been a party. The cookouts, city-wide activities, and of course the beautiful firework displays. These celebrations bear fruit of the freedom we as Americans have been gifted. As I reflect on my own celebrations growing up, it was common to share a blanket with the family next to us. Strangers were friends and friends were family. Laughter was heard throughout the downtown area. But my favorite part of the day was when all the lights went out and patriotic music could be heard throughout the city. People seemed to soften. Hearts were touched and we were united by a shared history; a moment in time that is remembered and celebrated year, after year. There is no truer sense of freedom felt in our community than what we feel during our 4th of July celebration.
But I often wonder why only one day? If we are truly free, why wouldn't we live like this every day? Wouldn't we chose to love our neighbor, assume the positive rather than the negative, and give generously we have to those around us? But yet, so many of us continue to live as prisoners chained by hurt, shame, regret, and sin. We experience moments like these and once the lights are back on, we scurry and rush back to our lives just as they were before: jaded and scarred by the world around us.
"Now the Lord is the Spirit, and where the Spirit of the Lord is, there is freedom." 2 Corinthians 3:17
The truth is we can live this way on a daily basis. For those of us that believe that Christ is within us and He is our Lord and Savior, we can live in a different kind of freedom – the ultimate kind of freedom. We can break free from the chains of this world, regret of our past, and worry of our tomorrows. We can trust in Christ and know that living genuinely free this side of heaven is a gift of the Holy Spirit.
Because of Jesus, I am free to love those that hurt me.
Because of Jesus, I am free to embrace those that don't look like me.
Because of Jesus, I am free to let go control of my time, money, and possessions to focus on people.
This freedom is sweeter and better than the kind we find on one day that comes around each year. It is a freedom that I fight for each day on my knees and with my Bible close at hand. I pray that this 4th of July you have an opportunity to reflect on the nation's freedom but that you also reflect and give thanks for your spiritual freedom found in a true relationship with God.
Father God, you have blessed this nation with an earthly freedom; a gift that so many others look to as privilege. Thank you for the sacrifice that was given by those that have fought and continue to fight for our freedom. May these families experience your blessing as we honor those and their sacrifice. Lord, I pray for our nation. I pray for unity and peace, grace and love to abound. And I pray that we seize the opportunity to seek true, spiritual freedom in a relationship with your son, Jesus Christ. Amen.