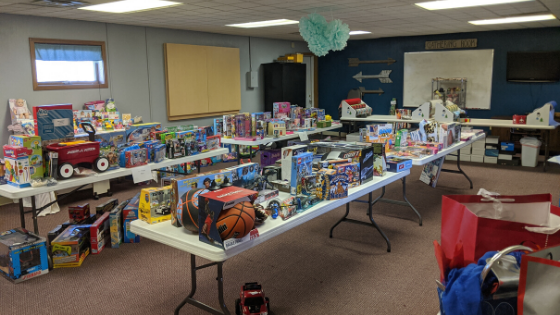 'Twas the Night before Christmas Room and all through the Center
Were busy preparations for the clients who would enter.
The Bridgehaven volunteers had been stocking and sorting,
And stacking and moving, endless boxes, transporting.
They moved some things up. They moved somethings down.
From the attic, from the basement, and from the shop downtown.
Furniture went out, and clothes racks came in.
Folding tables were opened, so the displays could begin.
Out came the puzzles, out came the toys.
Dolls and balls and things that make noise!
Trinkets and trains, tiaras and bubbles.
Legos and Playdoh and something called Wubbles.
There are crayons, and cards and race cars galore;
Stockings, CDs, sand art and more!
The paper for wrapping is set on the table.
Volunteers at the ready, willing and able.
Beloved Bridgehaven families would come, big and small,
To shop for their families and be blessed one and all.
And on this Christmas Room eve, we are feeling so grateful
For all of your giving, so big and so faithful.