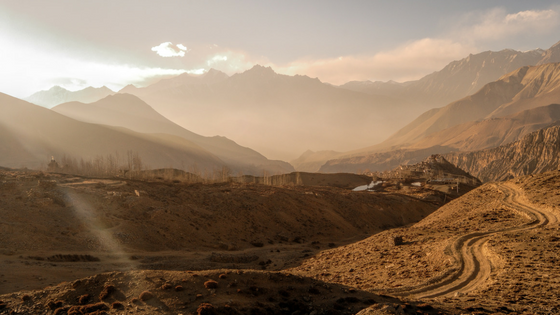 As the Israelites journeyed through the wilderness in the book of Exodus, there's this constant cycle and theme of God's provision, a restlessness from the Israelites leading to grumbling, fear, and self-reliance. God hears their grumbling and again provides, but again and again the Israelites fall into the same trap of grumbling fear and self-reliance as they focus on their pain and suffering.
I find it hypocritical that I laugh at the Israelites' craziness because I can so relate to it. My current wilderness has me lost and tormented in my own moments of grumbling, fear, and self-reliance. I've suffered from chronic migraines most of my adult life. Over the last four years they've gotten worse. I can go days and weeks with the pain. I have learned to function to a point with pain, holding my head high and 'just getting through it', until my body cannot take it any longer. They can go from annoying to debilitating within just a few hours. The darkest times are when the fear sets in, my body is weak, my head is pounding, and nausea and dizziness sets in. I lie in bed holding my head, praying for the pain to subside, and concentrating on trying not to throw up.
I've just come through a battle that lasted almost two weeks. I've felt that I'm at the end of my rope. I've tried so many remedies without the outcome I desired and spoken to so many doctors that really have no idea why these migraines occur. I've prayed, oh Lord how I've prayed, but to no avail. My guilt grows as my husband cares for me and as my 9-year-old son puts his arm around me in an effort to comfort and say, "Its okay, Mommy." I am so blessed to see the heart of the men who take care of me, but in the back of my mind I'm chastising myself; I don't want to be 'that mom' or 'that wife' who can't function or be there for it all.
As I lay on my bed Friday night, I prayed so many questions and requests 'Why God, help me understand.' 'Help me, God, take this affliction.' I've known this battle is more than just a matter of pain management for quite some time, but I have not felt l well enough to even think. On Saturday, I felt so terrible. I looked in the mirror and saw a burdened woman that had aged about ten years in the last two weeks; a side effect of pain. Still, I 'pulled myself up from my bootstraps' and kept going with the day's events.
By Sunday in church, I was spent weary and worn…but somehow peaceful. My study of the book of Exodus had led me to accept that this battle is my 'wilderness'. My suffering and affliction causes me to grasp at straws, rely on myself, and grumble when I don't feel good. My wilderness causes me to live in fear of going to bed at night, worried that I will wake up in pain. It has been a journey of self-reliance, and I'm saying boldly, in this moment, that there is more!
'I am the living bread that came down from heaven. Whoever eats this bread will live forever. This bread is my flesh, which I will give for the life of the world.' John 6:51
I choose Jesus over the hold this battle has over my health mentally, physically, emotionally, and spiritually. Through my wilderness, my pain, heartache and weariness, I will look to Jesus first; the Bread of Life, the Powerful Healer, the Mighty Comforter. I cannot heal myself the way Jesus can, I cannot bring purpose to this the way Jesus can, and I cannot bring life through pain and suffering; only Jesus can.
My journey has brought me to this point where even through the wilderness I will praise Him for the struggle. I will praise Him for the beauty of community that unites during my struggle, I will bless His name for the character and empathy that my pain is building within my son. I will surrender my striving for answers at the cross and look to Jesus for answers, guidance, and comfort. I will reject my desire to engage my self-reliance and allow myself to solely rely on Jesus for comfort, healing, and working in and through my pain and suffering.
'…For we were so utterly burdened beyond our strength that we despaired of life itself. Indeed, we felt that we had received a sentence of death. But that was to make us rely not on ourselves but on God who raises the dead. He delivered us from such a deadly peril, and he will deliver us. On him we have set our hope that he will deliver us again.'  -1 Corinthians 8-10
For me the journey seems long, but I can imagine for the Israelite, 40 years in the wilderness seemed like an eternity, especially with all the grumbling, fear, and grasping at straws to control their situation. Their self-reliant efforts increased the pain of their time in the wilderness. It can be so hard to see the provision God offers when we are in deep pain and suffering, but I bet if you were to stop and pause, you would see it; it's there. His love, comfort, and provision is a promise. From there I choose to celebrate and offer Him thanks and praise. I will turn my suffering into thanksgiving and draw closer to Him. I wonder if the Israelites had chosen to praise God instead of grumbling about God, would their journey have been different? I believe it would have been oh so very different.
'The Lord is near to all who call on him, to all who call on him in truth. He fulfills the desire of those who fear him; he also hears their cry and saves them.' Psalms 145:18 &19
Father, today I trade self-reliance for the gift of dependence on the Spirit. Forgive me for making myself and my suffering the center of my attention. I pray your will over my health and life. I pray for anyone else that might be experiencing suffering or pain, may their time in this season of wilderness not be in vain. May they wait on you patiently, loving and praising your Holy name. Amen.