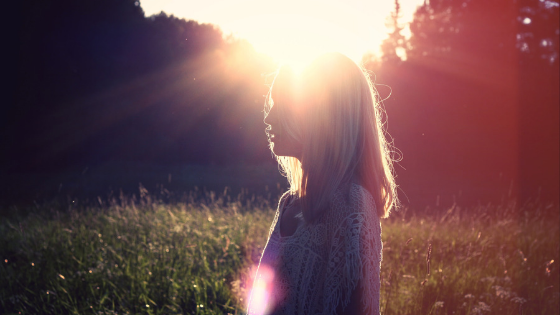 "Is it ever too late to start over?"
This is a question I ask my students often. I ask it when we are talking about drugs, porn, and setting boundaries for physical intimacy in relationships.
I love to tell them, "As long as you still have a heart beating in your chest, you have the choice to stop going down the wrong road and turn around. It doesn't mean it will be easy, or that you can escape the consequences of your actions. It doesn't mean you won't have regrets or trauma or bad memories. But you don't have to keep going back to the habit that's breaking you."
Just typing that makes me laugh and shake my head. Sometimes it still amazes me that it's my job to teach kids about how to avoid risk, when all I used to do was seek it. I used to believe if you went in the wrong direction for long enough, there was no point in turning around again.
My first experience with Bridgehaven was as a client. When I moved to Iowa in 2015, I was caught up in the fear and pain of an unplanned pregnancy. And along with being pregnant and single, I was coming out of a seven-year stint of drug addiction, promiscuity, and atheism.  
And then Jesus crashed into my world.  I hadn't even invited Him. As a matter of fact, I hadn't wanted much to do with Him at all, but He pursued me anyway. Two months after I gave birth to my daughter, I became a Christian. And all of a sudden, I had new priorities and affections. I wanted to read the Bible; I wanted to obey God. Shortly after my conversion, I was forced to reckon with these verses:
Flee from sexual immorality. Every other sin a person commits is outside the body, but the sexually immoral person sins against his own body. Or do you not know that your body is a temple of the Holy Spirit within you, whom you have from God? You are not your own, for you were bought with a price. So glorify God in your body. 1 Corinthians 6:18-20
I remember it hitting me that glorifying God in my body isn't just refraining from drug use.  This passage is a call to sexual purity. I thought saving sex for marriage would be an impossible thing to do. My former life had been defined by drugs and sexual immorality. But I wanted to obey God in this. People from my old life laughed at me….I laughed at me.
And then God placed me here, in the Prevention Department at Bridgehaven, where my life must be a reflection of what I teach. It is my job to teach kids how to build healthy relationships and avoid risk by saving sex for marriage. One of the great things about teens is that they can smell a fake a mile away. There is no room for pretending. If you aren't authentic, you simply will not be taken seriously. So when I teach about saving sex for marriage, it isn't just a concept or a theory; it is my life. And while it is difficult, God has been so good to protect and strengthen me in this area. He has given me the grace to be able to look my students in the eye and say with all honesty, "I am not asking you to do anything I'm not doing myself."  
At this, I often get silence and bulging eyes and mouths dropped open. Sometimes I get responses like,
"Don't you already have a kid?"
"That is….so weird."
"Nobody does that anymore!"
And, my personal favorite, "How do you expect a guy to stay with you if you don't have sex with him?"
And I am able to say things like, "Yes I already have a kid.  But it's never too late to start over. I know saving sex for marriage is the exact opposite of what our culture glorifies. If that makes me weird, that's okay."
I can look at teen girls who believe they must have sex in order to be wanted, saying confidently, "I know you think you have to have sex to make a guy stay with you.  I used to think that, too. But I am telling you, not all guys are like that. The men worth keeping will respect your boundaries."
How do I know not all guys are like that? Well, by the time this blog gets posted, there will be 9 days until my wedding. God has blessed me with a man who has never pressured or pushed my boundaries. Through my fiance, God has shown me that men can be gentle and respectful and trustworthy. He has restored the years the locusts have eaten (Joel 2:25).
And it will all be worth the wait.