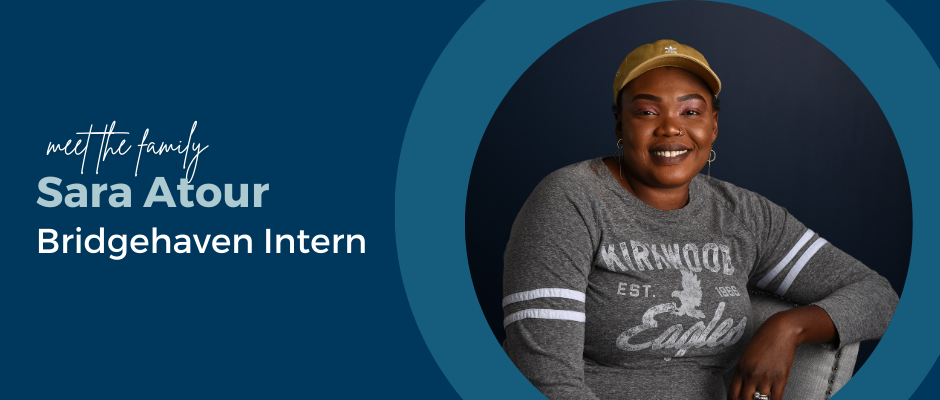 A little about me
I am from South Sudan, Africa. I am a wife and mother of three children: two boys and one girl. 
What is your role at Bridgehaven?
I have been a client at Bridgehaven for eight years, and I will also be completing my field experience for my Human Services degree, at the center. 
Where do you go to school and what is your major?

 
I am a student at Kirkwood and am studying Human Services.  
The reason I chose Human Services as my career path is because I love helping people and improving the overall quality of life for individuals within the community. I like to help those people and find suitable sources by providing support and personal assistance. 
Why Bridgehaven?

 
I was lost when I first came to Bridgehaven. I was going through a lot in my personal life. Bridgehaven was able to refer me to free therapy services, which was very helpful to me, and signed me up for classes (through the Earn While You Learn Program.) I especially appreciated learning more about the Bible through biblical studies. While taking classes, I could also shop weekly for my family for food, and baby essentials (such as diapers and wipes.) One of the incredible blessings that we get every year from here is the Christmas room. I was able to get Christmas gifts for my children. We have been very blessed by that. 
I love how Bridgehaven is  a community. I have met so many amazing people while taking classes at Bridgehaven. Bridgehaven is one of my support-systems. When I am going through something in life, they help in any way they can. I feel blessed to be in this community. 
What

are your career goals and how does this internship

benefit those

?
My goal is to assist individuals of all backgrounds by connecting them to the right resources, and this internship is giving me more professional experience doing just that.