TREASURES QUALITY RESALE SHOPPE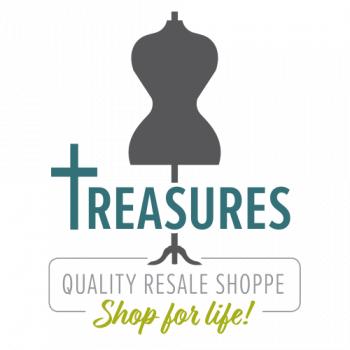 Treasures is a resale store benefiting Bridgehaven Pregnancy Support Center in Cedar Rapids, Iowa. We have clothing for the whole family, kitchen, home décor, toys, collectibles, and more!
Treasures is located at 405 8th Ave SE next to Bills Brothers Furniture and just down from Mercy Hospital (Emergency Room side).
Interested in donating? Click here to learn more information, including a list of items we can and can't accept and when you can drop them off.
Please note our hours may differ on holidays, including closures on: New Year's, Memorial Day, Independence Day, Labor Day, Thanksgiving, Christmas Eve, and Christmas. 
Sign up for our emails!
Stay in the know on Treasures' latest updates on sales, events (including seasonal reveals like our annual Christmas Reveal), and more!
What We Support
Treasures opened in 1994 under the name "Treasures on Second" as a unique way to generate resources to support Bridgehaven Pregnancy Support Center. Almost 30 years later, Treasures continues to be not only a great thrift store, but also a huge source of financial support for Bridgehaven as they empower choices for life.
Want to volunteer?
Volunteers are a vital part of Treasures! Our volunteer-to-staff ratio is over 20 to 1! If you share our passion to empower women and couples to choose life, we invite you to join our team. With so many ways to serve, we're sure there's a place for you to use your gifts.
LOCATION
Bridgehaven Pregnancy Support Center
4250 Glass Road NE, Suite 100
Cedar Rapids, IA 52402
GET DIRECTIONS
A Night with Bridgehaven
The unprecedented times we have walked through felt at many moments, impossible. Yet, through the "impossible," we have experienced the hand of God so clearly and fully, continuously strengthening our faith forward to what God shows us is possible. Through this, we have seen and continue to see the Lord at work each day as we walk through unplanned and unexpected circumstances surrounding pregnancy. 
Our theme for this year is scripture from Mark 10:27: "With man it is impossible, but not with God. For all things are possible with God." This is a reminder to us daily. When a pandemic hits, storms rage, and political unrest threatens safety, God is in control.  
Seeing God amid impossible circumstances and bringing light into the darkness is a story that will never get old. So, join us for a night of hope and inspiration, education, and information: A Night with Bridgehaven.  
---
This event is a Dessert Gala, so please make sure to eat dinner prior to attending. Check-in begins at 7:00 p.m., before doors open at 7:15 p.m. You are welcome to make your dessert selection, find your table, and fellowship with others before the program begins at 7:45 p.m.
HOURS
MONDAY: 10AM-5PM
TUESDAY: 10AM-5PM
WEDNESDAY: 10AM-5PM
THURSDAY: 10AM-7PM
FRIDAY: 10AM-4PM
Closed on Saturday and Sunday.
Bridgehaven is a 501(c)(3) nonprofit organization.
EIN 42-1203675